Personal touch has always been a hallmark of dealership customer service. Building relationships and establishing connections to foster long-lasting loyalty: these are the key means of dealership growth and success.
How can dealerships create and maintain this personal connection when so much of car shopping has moved to dealership websites? With 88% of customers turning to the internet and spending over 12 hours doing digital research before ever walking into a dealership, relating to shoppers and providing an outstanding customer experience is more challenging than ever.
What makes this even more difficult, is that, today's customers expect more and more personalization from their digital shopping experiences. Studies have shown that 74% of online shoppers find themselves frustrated with irrelevant content online; conversely, 77% of shoppers select, recommend, or even spend more money with companies that do provide personalization. Customers, not surprisingly, prefer a tailored shopping experience that speaks to their interests, preferences, and stage in the buying funnel– and 89% of businesses see improved results from personalization.
Despite the challenge, dealerships can customize every customer interaction, even the digital ones. A great content strategy coupled with the right technology can bring a personal touch to all stages of today's car buying process, improve customer satisfaction, and bring in more sales. Here are some strategies that your dealership can implement today:
Relevant content
Any shopper browsing your site should see relevant, information: videos, photos, helpful information for their stage in the buying funnel, and offers suited to their interests. For example, an early-stage shopper should see content that introduces new information. A late-stage shopper will be more interested in sales on particular vehicles they are browsing and financing tools to plan out their next purchase. In general, customers who visit your site multiple times should always see new content, adapted to reflect the change in their stage of research.
Optimal timing
Dealership websites should be optimized to show content at times when customers are likely to be receptive. For example, customers who are shown popups and overlays the moment they arrive onsite typically do not respond well, since they have not had time to get oriented and pursue their interests. It is better to wait until the customer has had time to orient themselves and invest in your company so they become more likely to convert and buy.
Predictive analytics 
This is the technology that brings it all together. Predictive analytics is a type of artificial intelligence (AI) that tracks the data of site users in real time, understands their interests, and predicts which content they will want to see, and when. This technology is extremely helpful in personalizing your dealership website, engaging more customers, and getting more business. This is the golden touch for your bottom line.
Here's another fun fact to know about predictive analytics: it is more sophisticated than the rule-based personalization used by many sites. What's the difference? Rule-based personalization requires marketing teams to analyze user data, segment groups of customers, and decide in advance what website visitors in each segment should be shown. For example, you might decide every first-time visitor sees information about an upcoming holiday sale, or every visitor to a particular VDP sees a special on that vehicle.
Predictive analytics, on the other hand, can track and analyze data to make predictions in real time for ultra-personalized, totally adaptable personalization. To illustrate, a site equipped with predictive analytics can take data such as time of day, language and location of the user's browser, average time on site, which pages they've viewed, and more, and use all of that data to predict and deliver the best content and timing for each user. Then, it tracks user responses  to improve predictions for future customers. The result is a feedback loop: data is collected to make predictions, content is delivered, customer reactions are recorded as additional data, which in turn improves future predictions and deliveries. Predictive analytics constantly improves itself, so that it takes less effort from the dealership team while providing better results.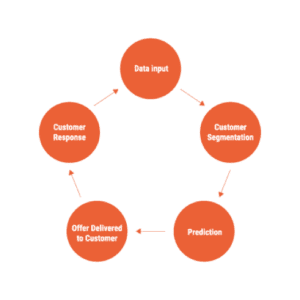 The Results of Data-Based Personalization
Increase advertising ROI. Your dealership spends money generating traffic for your website but unfortunately, most website visitors do not submit information or become customers. Because people are so responsive to personalization, you'll see more conversions from your website, making each ad dollar more worthwhile.
Improve brand reputation. A website that provides personalized assistance and value throughout the shopping process is a dealership that earns the trust and enthusiasm of customers. And enthusiastic customers are likely to write positive reviews– so crucial to shoppers these days– which boosts your brand and brings in further business.
Edge out competition. A positive, personalized experience fosters loyalty and obviates the need to turn to anyone else at any point. Satisfied customers who can get what they need at your dealership are likely to stay with you– to finally make a purchase and beyond, for service, maintenance, and eventually, future purchases.
Personalization is all about optimizing your site and bringing an outstanding experience to your online shoppers, just like you do in person. In today's market, it can be the difference between a low conversion rate on your website and an impressive one. Make the most of your content and today's technology to keep your dealership at the cutting edge of personalization and poised for constant growth.