Digital Marketing is a dynamic industry that changes very quickly.
These trends can severely affect your marketing campaigns and, because of this, it's important to understand what consumers want and how to handle your digital marketing.
Here are some of the 2018 marketing trends that you should consider incorporating into your marketing to boost your showroom traffic and sell more cars.
Micro-Moments
Early in 2016, Think With Google released a study by Luth Research that revealed the 900-plus digital interactions a vehicle shopper had leading up to her vehicle lease.1 It rocked the boat of automotive marketing and continues to affect how you should be marketing today.

For 2018, it's less a matter of understanding these micro-moments and marketing accordingly, and more a matter of being an expert in reaching shoppers throughout the course of each micro-moment. If you haven't already mastered these moments, then you need to find someone who can.
This study revealed where shoppers are, what they're searching for, and what answers they need in order to purchase or lease a vehicle. You cannot waste this valuable information! You could be reaching shoppers throughout their buying journey with information that is prevalent to them – and if you're not, your competition will take the lead.
For example, when shoppers are in their "where-should-I-buy-it" moments, they might search for "car dealerships near me". During this time, shoppers will explore dealership websites, looking at their inventory, deals, and specials. At this time in your marketing, you'll want to make sure you've considered paid-search options and have an excellent customer-facing website, or shopping tool so visitors can find the answers to their questions quickly and efficiently.
Social Video Sharing
Video was a key marketing trend in 2017 and it continues to dominate social media. Live streaming videos are watched 3x longer than prerecorded videos and YouTube is one of the most influential tools for vehicle shoppers. In fact, 69 percent of people who used YouTube while buying a car were influenced by it – more than newspapers, or magazines – making this trend key to automotive marketing in 2018.
Expect users to watch videos on mobile more than a personal computer. This means, not only do you need to be sharing videos on YouTube, Facebook, Twitter, Instagram, and more, but your videos have to be mobile friendly.
VIN Specific Campaigns
Have you ever shopped on Amazon and noticed ads following you around the internet with the same products you previously viewed?
With VIN Specific Facebook and Display Remarketing, you can follow shoppers around with ads that display vehicles they have already viewed on your website.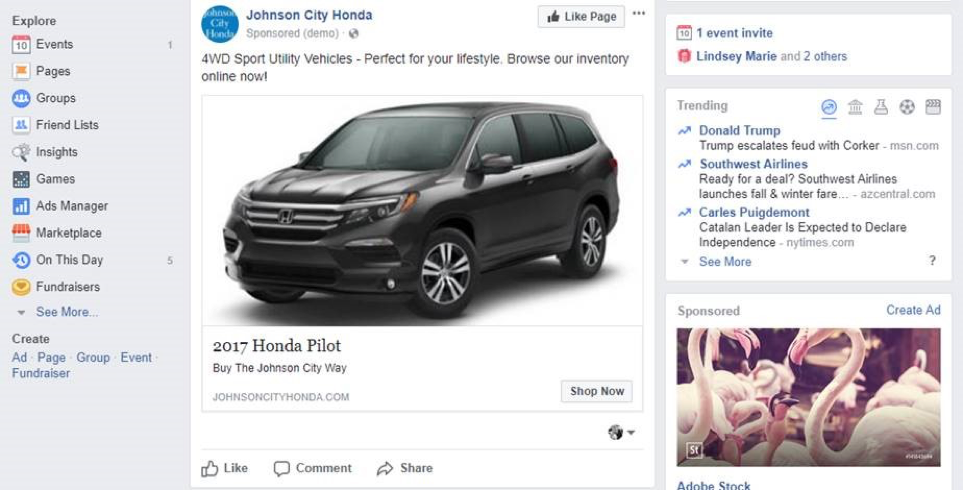 That's what these tools can do for you. This high relevance of these ads will mean better results for you!
With VIN Specific Campaigns, you can reach vehicle shoppers with information about specific vehicles on your lot. These campaigns can be used for paid search or Facebook/display remarketing. By using your data management system to match specific car information to a search or vehicle shopper, you'll be able to provide contextually relevant content to in-market shoppers – this is how you'll win in 2018.
With VIN Specific Paid Search, you can match a vehicle in your inventory to a shopper's search and serve them ads that feature information that's specific to that vehicle like price and mileage. The shopper is then directed to the exact vehicle details page they have searched for. This means that you are able to serve in-market shoppers advertising that is so relevant to them, they've already searched for it organically.
Case studies demonstrate a high increase in clickthrough rates using VIN specific marketing techniques, which make it the automotive marketing trend to use in 2018.
Social Media
There's never a dull moment in the world of social media marketing. It's a constantly evolving world that's increasingly necessary to the marketing industry.
By serving quality social media content – whether you share organically or serve ads, you can bump up engagement and increase your views (reach).3
Just because it's been done before, doesn't mean it's not worth perfecting in 2018. Keep in mind what your social media goal is. You need to get vehicle shoppers into your showroom. They'll research online, but they'll buy in person!
The most important thing for you to consider as you look into social media marketing, is what outlet to use. Find what outlet works best for you and your target market and how to best advertise through it.
Among U.S. users, Facebook is the number one social media outlet – in fact, 89 percent of adults in the U.S. use Facebook and 70 percent of those users spend nearly an hour on the site each day.4 Their closest competition is Instagram, which is owned by Facebook.5 It's also the second most popular website in the world (behind Google), so if you're looking to get into social media marketing, Facebook is probably a good place to start.6
And, if you really want to get fancy, Facebook recently launched Facebook Marketplace – which opens a plethora of possibilities for dealers in 2018.7
Mobile Marketing
This goes without saying, but I'll say it anyway: design for mobile. If your marketing isn't tailored to mobile users, you've already lost the 18 percent of vehicle shoppers who only use mobile devices and the 53 percent of vehicle shoppers who use multiple devices.8
In addition, Geo-Fencing, though it's been around for a few years, allows dealers to greet customers wherever they are and send nearby shoppers notifications about sales and inventory when they are active in your specific area.
Think With Google revealed that half of all car shoppers with mobile devices use their smartphones while at the dealership.9  These shoppers are on the lot and have chosen a vehicle, but they want to make sure they're getting a deal. They're looking at competing dealerships and Kelley Blue Book to see if they can get a better offer.
This means you could conquest shoppers from other dealerships, while they're on the lot – and they can conquest shoppers from you. Think about how you can catch them with marketing that speaks to their current needs.
The Takeaway
Today's customer is much different than customers of the recent past. They are no longer headed to dealerships to find out the information they need. They're spending all of their time (or at least most of their time) searching for vehicles online and making their decisions before they even consider heading to a dealership.
You have to adjust your digital marketing strategy to meet the demands of shoppers and the marketing industry. If you fall behind on any of these trends, you will give your competition the opportunity to advance. Shoppers are visiting fewer and fewer dealers before purchasing a vehicle and if you're not one of the 1.4 dealerships the average shopper visits, you're out of luck. You need to be the first dealership they visit, so that you can hopefully be the last.
Start with a plan and make sure you're consistently monitoring it to determine what works, what doesn't, and what strategies you could include that might boost your results.
https://www.thinkwithgoogle.com/consumer-insights/consumer-car-buying-process-reveals-auto-marketing-opportunities/
https://www.thinkwithgoogle.com/marketing-resources/micro-moments/five-auto-shopping-moments-every-brand-must-own/
https://thrivehive.com/boosting-posts-on-facebook-when-why-and-how/
https://www.nytimes.com/2016/05/06/business/facebook-bends-the-rules-of-audience-engagement-to-its-advantage.html
https://www.smartinsights.com/social-media-marketing/social-media-strategy/new-global-social-media-research/
https://www.weforum.org/agenda/2017/04/most-popular-websites-google-youtube-baidu/
https://www.entrepreneur.com/article/286543
2017 Car Buyer Journey
https://www.thinkwithgoogle.com/marketing-resources/micro-moments/five-auto-shopping-moments-every-brand-must-own/