We know that a dealership's website is the #1 digital resource used by women when shopping for a car. Yet, 76% of women rate their dealer's website with 3 out of 5 stars. This means that women want their dealers' website to deliver much more. What can you add to your website to make a better impression on your #1 market segment and increase your sales?
Currently, dealer's websites are almost exclusively product-focused. This seems logical – dealers want to sell cars. But women are buying much more than a vehicle; they are buying a trusted partnership that will serve them during the ownership of their current and future vehicles.
Surprised? TRUST is the #1 reason women choose a dealership. Yet, many dealers have websites that focus on only on the vehicle and not the reasons a woman buys at a particular dealership or buys a particular car.
Smart dealerships understand that their digital experience is a key factor in increasing sales. They understand that putting the time and effort into a website that answers women's questions and builds trust makes a welcoming difference between gaining a lead and having one drop off.
Conveying Persona and Lifestyle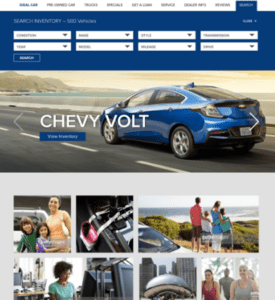 A website's landing page is key to inviting and retaining customers. The landing page has the potential to do so much more than show the mix of vehicles – it can make for a meaningful and welcome impression. The page must assist women guests and convey how a new car will fit into and enhance their lifestyle. Use images of real people to convey happy emotions as well as a trusted relationship. Showing a mix of guests, including single women, women with families, young and old with a good demographic mix shows a potential buyer that you care about people and have a wide range of customers. Offering the most likely search actions (dealership hours, car selection, service information) shows that you respect your customer's time.
Dealer Reviews
Women use dealer reviews 50% more than men according to Socialogue. Those reviews are 3 times more influential than advertising when a woman purchases a car. Why? Women are savvy enough to learn from others' experiences. Reading the reviews help a woman verify whether she can trust a dealer to give her an honest deal and if she wants to do business there.
Informative Content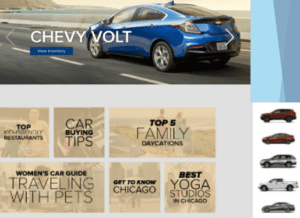 Current, engaging and informative content is a great way to build trust and ensure your guests will spend time on your digital assets and return in the future. Offer articles with car buying tips, things to know when getting a loan, best cars for different lifestyles, and traveling with kids and pets. Show your customers you care about them before, during and after their shopping and buying experiences. This demonstrates you have a more seamless on-to-off-line buying journey.
Capture Consumer Information
A dealership website should work hard for you. It is your 24/7 sales force. Ensure there is a simple, non-threatening way for a potential customer to register for more information. Then, follow-up with helpful information that keeps your customers engaged. Let women know that on the other side of the digital world, there are caring and helpful humans that truly want them to find the perfect vehicle.
Talk to Your Customer
When designing and updating your website, be sure to talk to directly your customer where they are. Top dealer websites speak to the customer in engaging terms that allow them to stay focused on their goals. Buying a car is a process, and a great website will guide a customer through each step. Your website will be the first point of engagement for potential customers. Be sure it represents your business and brand well, provides key information, and provides an easy-to-navigate process to draw your prospects in and encourage their engagement. Selling is secondary. Spend the time to make sure your dealer's website has a direct impact on increasing sales to your #1 market segment, women.