If I told you there was a simple and cost-effective way to make your business more discoverable both online and in real life, would you like to know about it? Well there is! It's called Google My Business.
What is Google My Business?
Google My Business (commonly known as GMB, and formerly known as Google Local and Google Places) is a free, simple-to-use tool that allows businesses with physical locations to manage how they appear in Google Search, and its growing portfolio of utilities.
If you haven't set yours up yet, now would be a good time!
The key difference between Google My Business profiles and other directories is that your Google business listing can be optimized with incredibly detailed information that can be output by Google into a variety of very important places with high online visibility. Places such as:
Google Knowledge Graph
The box containing business information that appears in the top-right hand corner of Google search results on desktop, and near the top on mobile, when someone searches for your business name. (See Chart 1)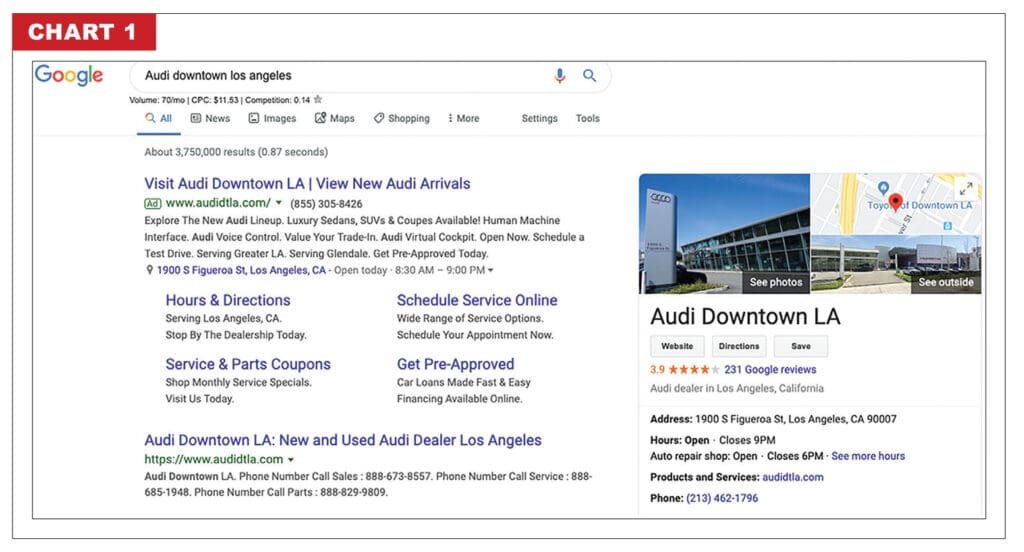 Google Local Pack
The three Google listings that appear beneath the map when someone searches for businesses in or around a particular location (e.g. 'Audi dealer Los Angeles'). (See Chart 2)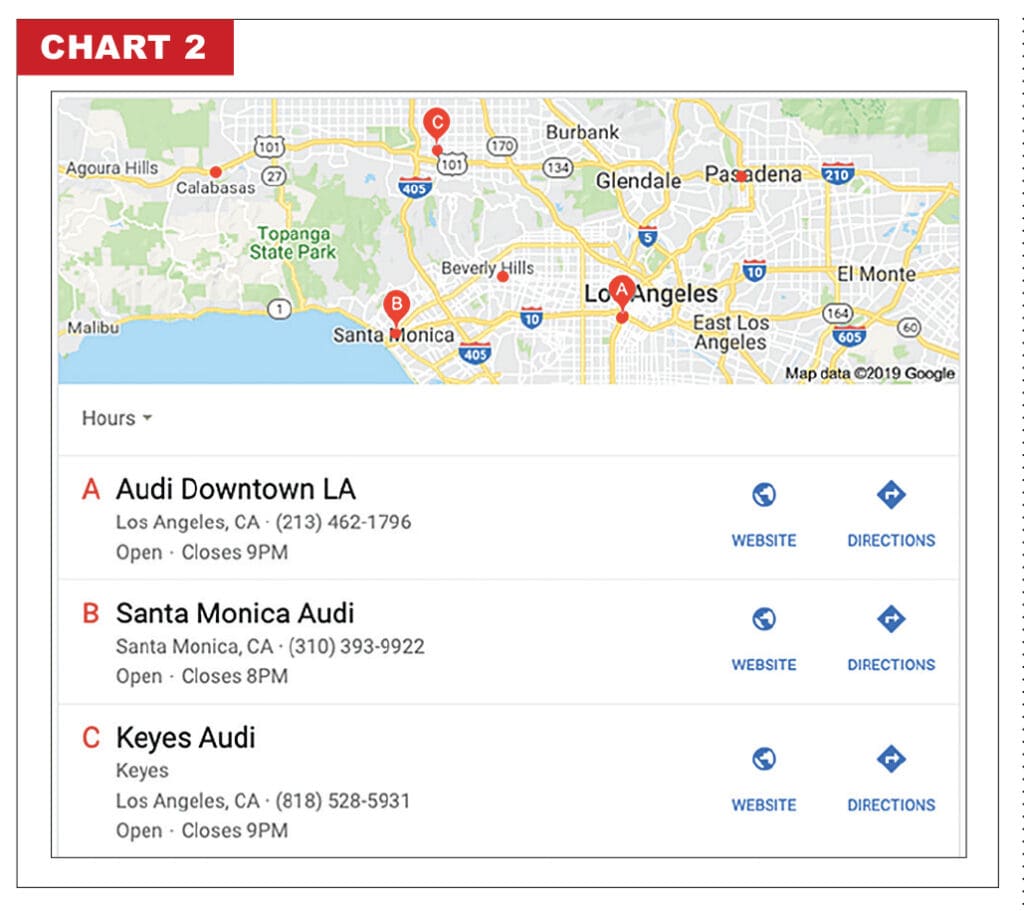 Google Maps
The long-trusted app that's used to get directions and discover businesses and locations, available on mostly every device, mobile or desktop. (See Chart 3)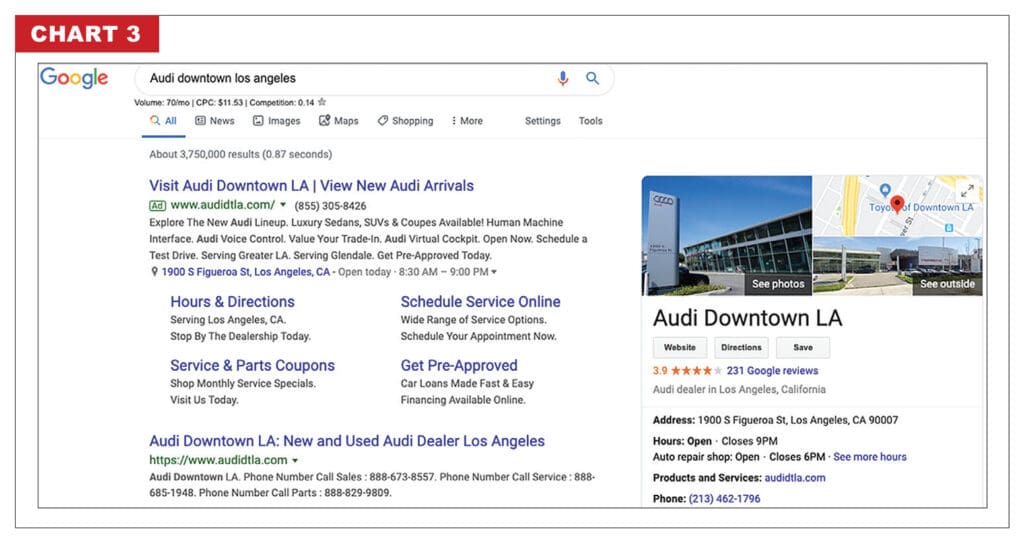 "Your GMB profile is the least expensive, most effective way to find new customers today," says Craig Darling, owner of Google Tools Academy and The Visibility Institute. Craig (like me) is an auto retail veteran. As a salesperson, Craig was a 1996 Chevy Hall of Fame Inductee. He spent 30 years in auto retail and managed multiple-franchise auto groups. Craig has been doing some pretty amazing things for his clients with Google My Business.
Craig and I are friends, and when I heard about the results he's getting with Google My Business, I had to find out more.
Check out these results. Craig is working with a Jeep dealer, and after one year, these are the monthly results coming from their Google My Business page:
 The dealership's Google My Business profile appeared 32,889 times in search.
 42,300 views (which means on 10,000 of those searches they were seen twice)
 4,200 visitors took action, which means 10 percent clicked on those views.
 2,890 users clicked to visit the website.
 322 users clicked on maps with their phones.
 1,089 phone calls
This particular dealership stated that even at the height of their busiest days, they would get 10 calls per day (300 calls per month). They attribute their "number one in market" status to the awesome use of Google My Business.

A managed GMB profile creates a social media type profile on Google Search. For a local business, Google My Business is more important than a website for engagement.
Actively manage your Google My Business profile
Google My Business makes it easier for customers to find you, online and at your physical location. But you have to commit to completing your profile info, regular updates and managing your profile, including Google Reviews.

a) Enter complete data for your profile (don't leave anything to a guess or assumption).

b) Complete the verification process (once you've provided the necessary verification details, Google will send you a postcard with a PIN. Once you receive it, simply enter it in the space provided on your profile, and you'll be verified!

c) Add photos and videos. You'll need:
Logo image
Header/Cover image
Photos to spotlight 
Features of your business that customers consider when making purchasing decisions
Manage and respond to customer reviews.
Monitor and review your Google My Business Insights
Over the last several years, Google has made tremendous strides with available analytical data for GMB listings.
Now called Insights, Google offers businesses a different way to understand how customers interact with business listings, including:
 How customers find your listing
 Where customers find you on Google
 Customer actions
 Direction requests
 Phone calls
 Photos
Why Should I Care About Google My Business?
An optimized GMB profile/listing helps Google understand more about your business: who you are, what services/products you sell, where you're located, your website address and what your current customer's experience has been like.
The benefits of Google My Business are threefold:
1. Increased visibility in search.
2. Better shopping experience for buyers.
3. More traffic to your website, social channels, and your front door.
The more Google knows about you, the more types of searches your GMB listing can appear in.
Are there any negatives to having a Google My Business page?
While there are more positives than negatives, GMB doesn't come without its issues. Google is still working out some of the kinks for certain industries and has previously encountered problems with showing service area businesses in Map results. While they seem to be getting a better grasp on this, the issues still occur.
It can be a major learning curve
Newbies may find GMB a bit overwhelming. This latest re-invention has some frustrating drawbacks. While it may be touted as "easy-to-use," in practice it can be challenging.
It's time consuming
The user interface is a bit clunky. I recently had trouble with a few clients' verifications. It took a lot of work (multiple phone calls to support over three weeks time) to get their GMB listing/profile verified.
Adding content can be time consuming, especially if you don't have good, relevant content to post.
It will take six months to see considerable results
As with all organic marketing (not paid ads), Google My Business listing results will begin to show striking improvement by the six-month mark. Craig's results above are at the one-year mark. But it's so worth the wait! You're building a lasting presence on the largest search engine on the planet that attracts customers in your market area…without paying for ads!
People can post their own images on your profile
Now, this should be a positive (and it is), but you already know what I'm going to say. When people can use their own photos, there is a chance those photos will not be a good representation of your business. They may even show prominently on your listing. Regular monitoring will mitigate this occurrence and Google has a process to flag a photo for removal.
Overall, the benefits of Google My Business outweigh the challenges. 76 percent of people who visit a local business the same day they search for one. With staggering numbers like that, and the example results mentioned, it's critical to have a Google My Business page for your business.
About the Author
Kathi Kruse is an automotive social media marketing expert, blogger, speaker, coach, author, and founder of Kruse Control Inc. Born in the heart of Los Angeles to a family of "car people," Kathi's passion for the car business spans a 30-year career managing successful dealerships in Southern California. Kathi is the author of "Automotive Social Business – How to Captivate Your Customers, Sell More Cars & Be Generally Remarkable on Social Media." Email: kk@krusecontrolinc.com