Sporty Cars See Larger Declines As Summer Ends
Welcome to this week's edition of Black Book Market Insights, with in-depth analysis of used car and truck valuation trends and insights straight from the auction lanes. Click here to download the full report.
This week's Black Book Market Insights report shows how car segments, particularly Sporty Cars, continue to face larger depreciation compared with trucks. The report spotlights Mid-Size Cars, which are showing falling retention rates after maintaining a similar retention over the previous four years.
"The Sporty Car segment declined the most, following typical seasonal patterns as summer draws to a close. The car segments continue to experience a steeper decline in values in comparison to pickups and SUVs," said Anil Goyal, Senior Vice President of Automotive Valuation and Analytics.
Volume weighted, overall car segment values decreased by 0.77% last week, slightly higher than the depreciation rate of 0.69% seen in the previous four weeks.
Sporty Car, Full-Size Car, Luxury Car and Sub-Compact Car segments declined the most by 1.45%, 0.96%, 0.80% and 0.80%, respectively.
Volume-weighted, overall truck segment (including pickup, SUVs and vans) values decreased by 0.44% last week. This is similar to the depreciation rate of 0.42% seen in the previous four weeks.
Compact Van declined the most by 1.98%. On the other hand, Full-Size Van continued to perform better, depreciating by only 0.52%.
Mid-Size Car Retention Rate Trend
(Black Book Wholesale Average (% of MSRP) in September, at Model Year plus two years)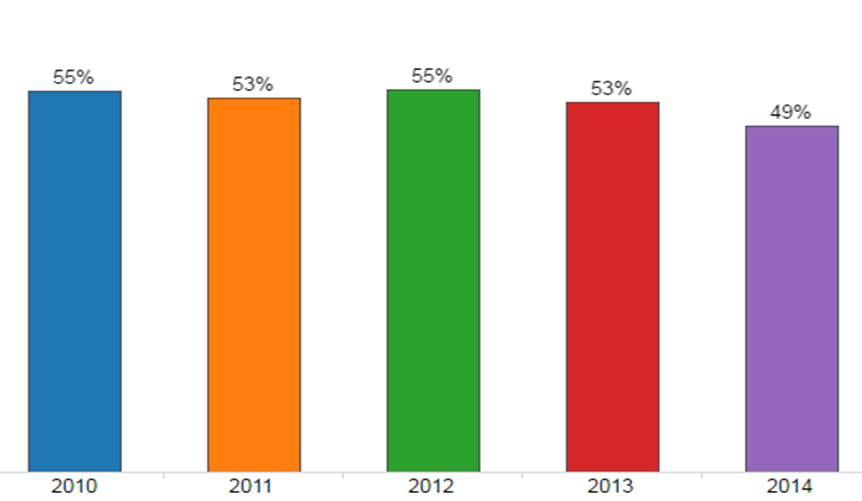 The chart above shows that the retention rates of mid-size cars have remained steady in the past few years until this year when they declined by 4 percentage points. For 2013 MY, the retention in September 2015 for Mid-Size Car was 53%. In comparison, for 2014 MY, the retention in September 2016 has dropped to 49%.