Full-Size Pickups Start to Show Higher Decline
Welcome to this week's edition of Black Book Market Insights, with in-depth analysis of used car and truck valuation trends and insights straight from the auction lanes. Click here to download the full report.
This week's Black Book Market Insights report shows an increased depreciation on Full-Size Pickups and Full-Size Vans this past week. On the other side of the spectrum, Sub-Compact Luxury Crossovers and Compact Vans showed the greatest retention in the truck segment. This week's insights also includes highlights from the Specialty Report.
"Broader declines seen in the market last week as segments with larger declines included sub-compact cars, sporty cars, mid-size crossovers and full-size pickups." said Anil Goyal, Senior Vice President of Automotive Valuation and Analytics.
Volume-weighted, overall car values decreased by 0.57% last week. This is lower than the average depreciation rate of 0.66% seen in the previous four weeks.
In car segments, Sporty Cars, Prestige Luxury Car and Compact Car segments declined the most, dropping by 1.20%, 0.99% and 0.82%, respectively.
Volume-weighted, overall truck values decreased by 0.58% last week. This is higher than the average depreciation rate of 0.43% seen in the previous four weeks.
In truck segments, Full-Size Van, Mid-Size Crossover/SUV and Full-Size Pickup segments declined the most, dropping by 1.02%, 0.75% and 0.74%, respectively.
Quarterly Depreciation in Truck Segments (7/1/16-10/1/16)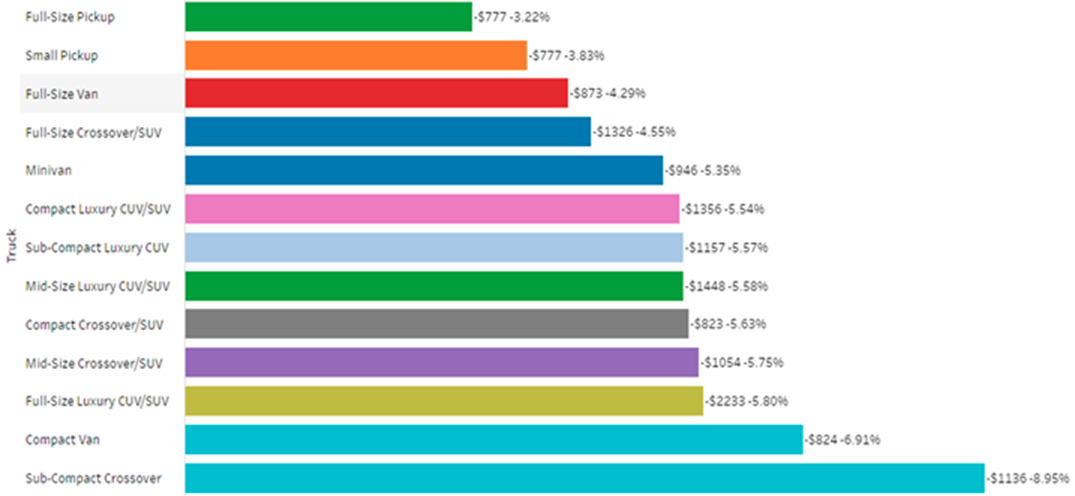 Overall, depreciation in trucks performed better than cars last quarter. Full-Size Pickup was the best performing segment with 3% quarterly depreciation. Sub-Compact Crossover was the worst performing segment with 8% quarterly depreciation.
Specialty Market Update
Collectibles: Certainly sale prices are down a bit, especially on the exotics which had skyrocketed in the past year or so, but the best of the best, especially late model super cars, are still bringing very good money.
Recreational Vehicles: Last month towables made a big jump in values, and this time it was motorized's turn. Auction volume was up substantially on the motorized side, which says consigners were making every effort to move units and get them off their books as we head into fall.
Powersports: With the arrival of new models from many manufacturers, and the end of the summer riding season, prices have dropped for all of the on-road and watersport categories.
Heavy-Duty: The used Long Haul and Short Haul Tractor Story remains the same. The strength of the Construction/Vocational Segments is helping stabilize the entire market.
Medium-Duty: We saw both groups of trucks in the Medium Duty wholesale market decline at a very similar rate this past month as to the previous month. This past month, the 4 to 11 year old models came down on average, $280 or 1.4%.