By Chris Martin, SVP of Customer Development, Client Command
The automotive industry has been defined through the first half of 2021 by the imbalance of automotive supply and consumer demand. But is this perception or reality? Industry publications are flooded with headlines daily chronicling the ongoing supply woes, exacerbated by the still rebounding chip shortage. But what about consumer demand. Is it as epic as it feels? And if so, are there insights to help dealers navigate the latter half of 2021?
Spoiler alert: Consumer demand is at epic levels and it can be most seen in tracking the number of new entrants coming into market with the Active Shopper Network®. Client Command's Active Shopper Network® is uniquely positioned to offer dealers real-time insights into who has started shopping, stopped shopping, or continued shopping in the past 24 hours. By monitoring online shopping behavior across the entire internet, the Active Shopper Network® equips dealers with insights to understand consumer demand, monitor trends, and take action in strategies to acquire inventory, adjust marketing tactics and equip sales teams.
So, let's dig into the data.
The Correlation of Online Shopping Trends and the Overarching COVID-19 Story
Disruption. It is the word to summarize the impact of Covid-19 on automotive (and the rest of society). The disruption to consumer behavior is well documented, as is the automotive industry's — especially dealer's – response. Covid-19 has disrupted, I would argue permanently, ALL patterns, including consumer demand. Traditionally, shopping activity falls off in Q1 & Q3 and surges in Q2 and Q4. The story since January 2020 tells a story of its own.
Active Shopper Network® – Monthly Shopping Trends (National) – Since January 2020
ALL Daily Active Shoppers®

ALL SHOPPERS – TRENDS
Consumer demand came out of the gate in January 2020 lagging the 2019 demand of 18.5 million Active Shoppers®. Traditionally shopping activity is lower in Q1, steadily climbing to higher levels in Q2, dips in Q3 and lifts in the latter half of Q4. In the pre-Covid 19 timeframes, demand started ahead of the overall baseline but by mid-February was moving in the opposite direction of typical seasonal trends.
With the onset of Covid-19, shopping activity plummeted, in spite of the increased time spent online for work, school and all things entertainment due to shutdowns to contain the virus. Kickstarted by the Memorial Day holiday, a strong rebound began in May, gaining momentum throughout the summer and reaching pre-Covid levels leading up to Labor Day.
Driven by pent-up demand, a surge in shopper demand came in Q3 2020 lifting demand 21% ahead of 2019 into early November when demand dropped off. In a time period where new models and holiday spending traditionally lure new shoppers into the market, disruptions to new model releases, the Presidential election, and a resurgence of Covid-19 cases all combined to keep shopper demand at or below 2019 levels. This dip was short lived as vaccine roll-outs and stimulus checks corresponding to the beginning of 2021 began a steady push upward.
Consumer demand started this year at 2019 levels. Fueled by stimulus checks, tax returns, increased vaccination rates, and life shifting back towards pre-pandemic levels, demand has not only eclipsed the record levels in fall 2020, it has held steady throughout the summer of 2021, 30.6% ahead of pre-pandemic levels.
ALL SHOPPERS – KEY INSIGHTS
Consumer demand is more than 30% ahead of levels that drove a 17+ million SAAR in 2019. Recently, an executive from a major OEMs called consumer demand "unlike anything I've ever seen." Consumer demand is at epic highs. But the insights are more nuanced than that.
DAILY ACTIVE SHOPPER® NEW ENTRANTS SHOW TRUE PULSE ONE WHAT AUTOMOTIVE IS FEELING
For years, the industry has talked about tire-kickers – consumers who spend hours surfing automotive and OEM websites and in the 'good ole days' browsing a dealership lot. Tire-kickers, virtual or in person, are not serious shoppers. The Active Shopper Network® knows that and is built to identify the moment an active shopper® enters the market — monitoring, scoring and activating marketing based on the shopper's intensity, intent and behavior. It is these NEW entrants to the market that hold key insights into what dealers and OEMs are feeling.
Active Shopper Network® – Monthly Shopping Trends (National) – Since January 2020
Daily Active Shopper® NEW Entrants (started shopping that day)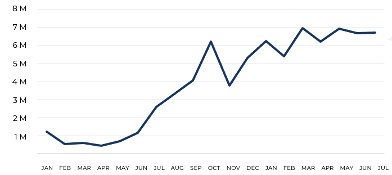 NEW DAILY ENTRANTS TRENDS
Though the patterns of New Daily Entrants mirrors overall shopping activity, the surge is far more extreme. From this graph, you might infer that New Entrants came out of the gate in a typical fashion in 2020. Quite the contrary, those numbers were trending AHEAD of typical seasonality – leading to record January and February sales numbers at various OEMs. This is what takes the story to another level.
For New Entrants – the first stimulus, reports of unprecedented dealer incentives and gradual reopening efforts leading into Memorial Day, meant we were seeing pre-pandemic levels of new shoppers entering into the market as early as June 2020. Demand skyrocketed long before September 2020.
When you add traditional car shopping holidays like Labor Day and Memorial Day and events that pump cash into consumer bank accounts such as the second stimulus checks in early January 2021 and third stimulus in March 2021, you can clearly correlate the accelerated consumer demand in automotive. Even with the dip in November 2020, and a plateau this summer, that's 12 consecutive months of record levels of new entrants coming into the market.
NEW DAILY ENTRANTS KEY INSIGHTS
To put it simply, dealers are looking at 5X MORE new shoppers entering the market right now than 12 months ago.
So what does this mean?
Dealers waiting for their next inventory shipment to make proactive marketing decisions are already late to the party. Why? A record number of shoppers are entering the market daily and getting marketing in front of them today, turns those shoppers into buyers 70+ days from now – right when inventory is ramping up.
Not only that — waiting until you have a comfortable supply on your lot misses sales and profits down the road. Our data shows that reaching Active Shoppers® early in their shopping journey generates more Gross Profit. Why? Dealers are influencing the customer when they're doing the majority of their shopping, which is done online. In 2021, sales influenced by marketing powered by the Active Shopper Network is delivering 38% more per vehicle on top of the crazy grosses.
Get in front of shoppers now, and take control of this seller's market!
About the Author
Chris Martin is the SVP of Customer Development for Client Command. For 18 years, Chris has worked closely with dealers to understand their goals and align Client Command's industry-leading data and marketing solutions to drive results for their businesses.