Here in the U.S., fraud is on the rise in a big way. Massive data breaches, like the Equifax breach, have given criminal fraudsters access to more information to defraud consumers and businesses. That is why we can expect more fraud perpetrated and more losses incurred than any other point in history.
Fraudsters have set their sights on big-ticket items like cars that can net them 15 to 20 times the cash value than they can get from credit cards. By providing fraudulent information on applications for car financing, a clever fraudster can make a profit of $250,000 or more by shipping high-end cars overseas. And at the end of the day, it's the dealer that loses the car in these schemes.
$6 Billion or More a Year in Fraudulent Applications
As fraudsters have shifted their patterns to focus on stealing cars, it is having an adverse impact on the lending industry. In 2018, fraudulent applications could exceed over $6 billion in value across the industry. On average one in every 200 applications could have fraudulent information that could lead to a problem with that loan after funding. But on certain portfolios and at certain dealers, fraud rates can be dramatically higher.  When dealers are being attacked by fraud rings, their fraud rates can rise as high as one in every five loans.
Car Dealers
Be Aware of the Risk of Fraud 
Too often, car dealers are not focused enough on fraud. Over time, dealers feel immune to fraud because they have not had a problem with it, or because they have been able to work out an arrangement with the lender when it does happen. But that could all change and dealers should be prepared. Here are five reasons why car dealers should be very concerned with fraud.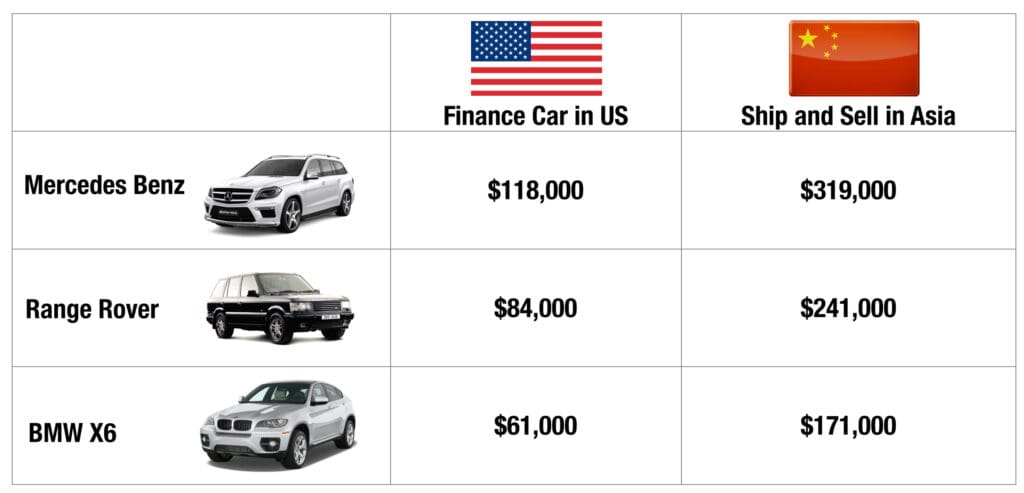 Fraud Rates Are Rising and is Becoming More Common in Auto Lending
Each year, fraud rates are rising in auto lending.  As it rises, the odds that it will strike your dealership are high.
The fraud rates are rising because clever fraudsters have found new ways to make their schemes more hidden and more damaging. They have developed new schemes like creating synthetic identities using stolen social security numbers. Synthetic identities are catching like wildfire because they can be almost impossible for a car dealer to spot by just looking at a social security card. When the fraudster enters a dealership they often look like a great customer. Their credit scores are typically 720 or above, they seemingly have great income and low debt. But it is all a façade, and those great looking customers are nothing but wolves in sheep's clothing.
Statistically Fraud Will Impact You Someday
Statistically, most dealers will experience at least one fraud attempt this year. If you do the math, you can easily forecast your likelihood of having a fraudulent loan. For every 200 cars that a dealer finances, at least one loan might have fraud and will impact the performance of the loan payments.
If your dealership finances 400 loans a year, then you will likely have two cases of fraud this year that could result in a non-performing loan.
Keep in mind however, that some dealerships become targets of fraud rings when they have lax fraud controls. If you are targeted by fraudsters because of lax fraud controls, your liability of fraud on 400 loans could increase to 80 loans! At an average loss of $24,000 per occurrence, your losses could increase to close to $2 million in liability.
Lenders Will Hold You Responsible for Fraud and Early Pay Default
Most lenders hold dealerships responsible for fraud and misrepresentation on applications.  If a loan defaults (particularly within the first six months), lenders will often have investigators scan the application to determine if information was truthful. If there are obvious misrepresentations, those loans could be subject to dealer buyback.
When fraud occurs, it is oftentimes not the lender's problem, but the dealership's problem to resolve which includes recovering the car.
Your Profit Will Take a Hit
You should be concerned with fraud because of the hit your profits can take. Car dealerships that have had a problem with fraud in the past report that it can take an enormous toll on their profits, and can take the profit of 10 good loans to recover the cost of a single fraudulent loan.
Fraud Can Slow Deals
Dealers that have historically high rates of fraud attempts might have a harder time getting speedy financing for borrowers. If lenders experience a high rate of fraud from a dealership, they may begin to look more closely at the applications that are submitted for financing to ensure that fraud is not occurring. This can slow down the approval process and make it much harder to close deals quickly.
How to Keep Your Eye on Fraud
The good news is that fraud is preventable. Most dealers that have robust fraud controls and screening are able to limit their fraud liability substantially and book thousands of financing deals without a single instance of fraud.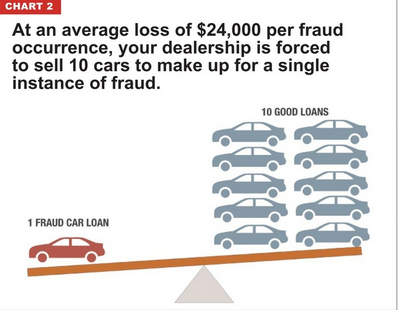 There are four things dealers can do immediately to limit liability.
Be Aware that Fraud Can Happen to You
For every 200 applications for credit, there will be at least one fraud. So, do the math. Odds are if you haven't been hit, you might be. Train your staff on what to look for. Make them aware how common it is and get them on your side in the fight against fraud.
Trust your Instinct, Trust Your Gut
Dealers know their customers better than anyone. Trust your instinct when a car buyer enters the dealership that is out of the normal pattern. One out of four finance managers that were scammed instantly knew something was wrong but went forward anyway. Trust your gut. If you are suspicious, perform a higher level of checks on that individual.
Check More than Identity.
Checking a driver's license is a very limited fraud control. About 85 percent or more of the fraud that will occur may be related to other types of fraud such as employment fabrication, income manipulation, straw borrowers and other fraud schemes. Put a fraud checking program that looks for more than just identity fraud.
Double Check Information
There are many simple things you can do to validate information.
 Get the Social Security Card, ID, and insurance paperwork and make sure the information is consistent.
 Buy an ID checking guide. They are $24 and can instruct you how to find fake IDs in all 50 states.
 Buy an $8 UV flashlight that they use at nightclubs to check ID.  If the hologram is fake (which it usually is) you will spot that.
 Check the address to ensure it matches to the application and the credit bureau report.
 Watch for coaching of the buyer. Fraud rings will recruit unsophisticated borrowers to act as stand-ins for the fraudulent financing.
Reach out to Lenders When You Need Help
Establishing a partnership with lenders is the best way to fight fraud. Since lenders have more tools to diagnose and detect fraud, they can help you understand the impact to you before it ever happens. Good collaboration on fraud is the key to winning the war on fraud.