Digital and automotive recently fused together during the 21st Digital Dealer Conference & Exposition held at the MGM Grand in Las Vegas, Nevada. The agenda, packed with 100+ Sessions with powerful strategies and takeaways, an impressive Exhibit Hall with 130+ companies showcasing their latest digital solutions and products, and numerous opportunities for networking and learning from peers, resulted in attendees calling this the most valuable conference industry-wide.
Breakout Sessions centered on the latest digital and automotive consumer trends, best practices, and proven methods for dealers to strengthen their team, processes, brand, and profit. Sessions were led by top-performing dealers, automotive consultants, digital marketing gurus, and presenters from powerhouse tech companies, including Google and Facebook.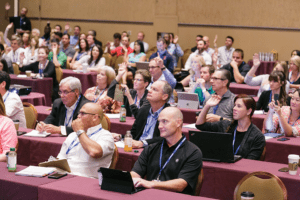 The completely customizable agenda enabled attendees to handpick sessions to attend, and zero in on the content most interesting and beneficial to them. Session tracks included: CRM, Data & Analytics, Video, Email Marketing, Finance & Insurance, Fixed Operations, Management, Mobile, Pre-Owned, Reputation & Loyalty, Sales Strategies, Social Media, and more in Digital Marketing.
Sessions centered on how to better target campaigns, track and measure digital performance, generate and convert leads, improve customer engagement and retention, build a stronger internal team, find the best digital avenues and processes to yield the highest returns, and so much more.
While integrating new concepts and technologies is vital to flourish in today's rapidly changing industry, new processes can bring pushback amongst those in the dealership — making the opening keynote both pertinent and empowering. The Keynote Panel "How to Set the Stage for Change (and Win the Buy-in)" addressed how to transition from fearing change to welcoming it, while gaining the support of your entire team. The Keynote Panel included: David Villa, Founder and CEO of IPD; Lisa Copeland, head of Automotive Retail Strategies for The Culture Works; and Matt Lasco, VP and General Manager of Lasco Ford & Lasco Grand Blanc.
As afternoon sessions drew to a close, attendees were laser focused on the afternoon keynote "Disciple & Math Success Metrics to Build a Fortress Dealership" by Erich K. Gail, COO of the Cardinale Group of Companies, now the #2 highest sales volume eDealer in North America. Erich shared proven methods that awarded the Cardinale Group its major success and recognition. He shared how to achieve recurring gains in unit sales, transaction gross and net profit while defining and achieving a fortress-balance sheet operating model.
Immediately following Erich's presentation, contestants from Relevate Auto, Flick Fusion, PureCars, Dynalog, and Cars Quick Buy stepped onstage for Digital Dealer's friendly but fierce Tech Tank competition. Contestants introduced new products in everything from virtual reality, inventory targeting, lead targeting, to digital tools that revolutionize car shopping. Each faced an intense Q&A from a panel of industry experts, and then the audience casted their votes live! Everyone watched as Jeremy Anspach of PureCars inched ahead of the competition and was awarded for the "Most Innovative Product."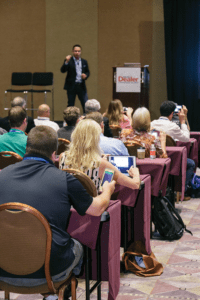 Attendees flooded into the Exhibit Hall for a Cocktail Reception full of mingling, networking, and demoing an array of innovative products. The massive Exhibit Hall, full of eye-catching signage, plush carpet and furniture, grand product displays, giveaways, and revolutionary products and solutions, was nothing short of spectacular.
In the Day 2 lunchtime keynote, leading social media influencer Grant Cardone shared tips and techniques to build a world-class sales team to maximize retention and profit, and to gain a competitive edge in the market. He covered how to train, motivate and enforce your salespeople to increase appointments, and get results.
Dealers learned immensely from their peers as well. During the Peer Strategy Roundtables, dealers brought up their specific problem areas, and learned what strategies enabled others in the industry to combat against similar challenges.
In the evening keynote "Car Shopping: The Final Frontier for Ecommerce," Famous Rhodes, Vice President of Digital and Customer Experience of AutoNation, and Abram Sirignano, Group Director of Fjord New York Studio, discussed consumer trends and behavior, how the car shopping experience is changing and how to meet consumer expectations. They shared compelling data and insight on Uber, autonomous cars, car ownership, and real innovation in the auto retail sphere, to shed light on the future of automotive.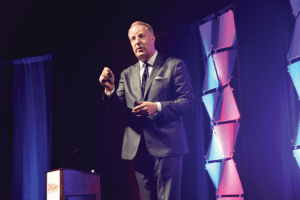 In the evening hours, Digital Dealer hosted its trendy White Party, held at Wet Republic. Decked out in all-white attire, guests partied poolside, surrounded by cabanas, daybeds, and a lounge, to the tunes of a top DJ.
On Day 3, consultants Brian Pasch of PCG Companies, Joni Stuker of Owner Connect, and Kathi Kruse of Kruse Control Inc., (moderated by David Villa of IPD) engaged in a conversational keynote presentation on the challenges many face when they attempt to measure the success of their advertising investments. They covered Key Performance Indicators (KPI), values for KPIs so you can compare your results with best practice, and how to inspect your own advertising data and take remedial action to improve performance.
You can gain even more, fresh insight and resources to build a stronger action plan for your dealership to achieve a greater level of success, at Digital Dealer 22 in Tampa, FL on April 11-13, 2017.