In 1970 you could walk into your local Dodge dealer and buy a new Challenger with a 425-horsepower Hemi. Today you can still buy a Dodge Challenger, but now it is powered by a 707-horsepower Hemi. The 2016 Challenger is not only faster, it's safer, more comfortable, and much easier to drive. And the same can be said for the car buying experience of today. Things have gotten faster and easier.
To see just how fast and easy it is, we recently took a deep dive into the world of online and offline car buying by comparing the digital properties of the top five auto retail groups. Through a comparison study and a Fractl survey, we focused on critical categories and their corresponding satisfaction levels. What we found in this changing, competitive landscape is car shoppers today demand pricing transparency, low pressure, simplicity, and—no matter how fancy a dealer's virtual world is—nothing can replace the actual in-person test drive.
It's important to remember the auto purchase process is not unlike a real estate transaction. This is partly why educated car shoppers are conducting up to 98% of their research online before taking the first step into the dealership, and they're averaging anywhere from 2-8 hours preparing for the visit.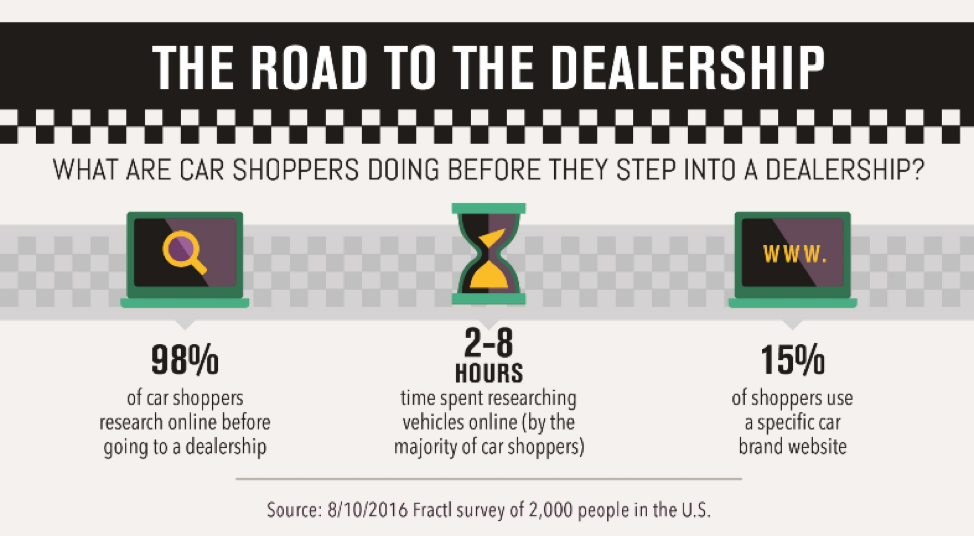 Dealers who haven't leveraged the available technology to make their online experience intuitive, fast, and efficient will drop off. Car shoppers want to effortlessly transition from online to the brick-and-mortar dealership visit. Because there is a need for that in-person exchange of paperwork and keys to complete the transaction, auto retailers who are decreasing what once was a long and exhaustive process are meeting customer expectations and are the top pick of a growing demographic who has to do more with less time.
Satisfaction Metrics
Our comparison research included auto retail groups: Penske Automotive Group, Group 1 Automotive, Sonic Automotive, AutoNation and Lithia Motors. The intent of the study was to see how both the online and mobile properties of each retailer stack up in key areas where buyers have reported the most satisfaction.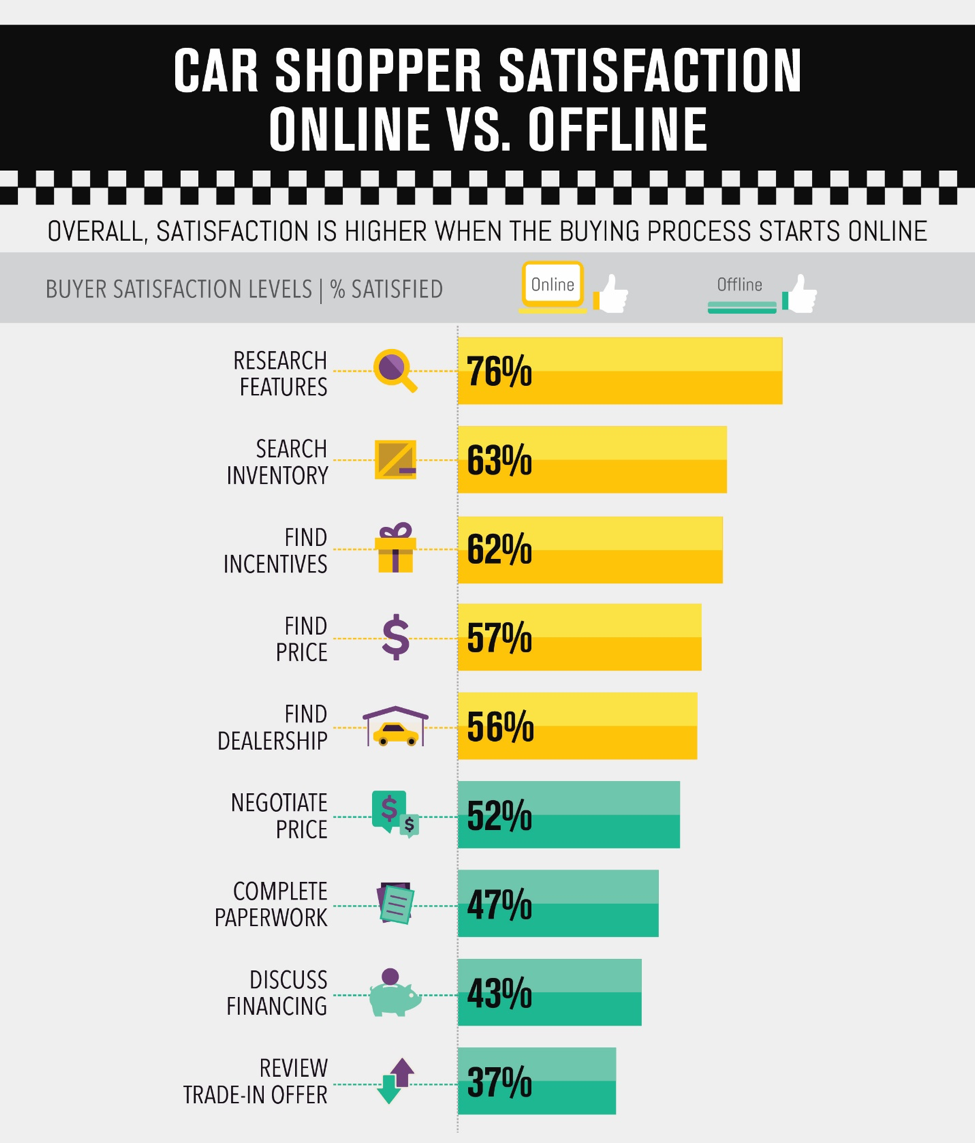 We learned car shoppers are happiest when the process starts online. Highest satisfaction levels were related to rich research features, while painless price negotiation was most highly regarded at the dealership. Buyers are increasingly dissatisfied with the elevated stress that can result from price negotiation or even worse, being promised one price online that is significantly elevated when face-to-face.
We also honed in on price availability and transparency. Retailers who do not show the price up front send consumers flocking—to competitor sites. The auto retail groups apparently got the memo because they mostly listed MSRP prices as well as any special discounted rates. The one exception was Lithia, who provided an MSRP and then prompted for consumer personal details in exchange for a quote via email. Using overt data capture techniques like this may not be detected by Baby Boomers but a savvy millennial may be immediately turned off.
We found automotive retailer AutoNation taking first place with their locked-down, haggle-free, fixed price formula that takes the mystery out of the visit to the dealer, eliminates stress and pressure, and reduces time in the dealership by 24% 1.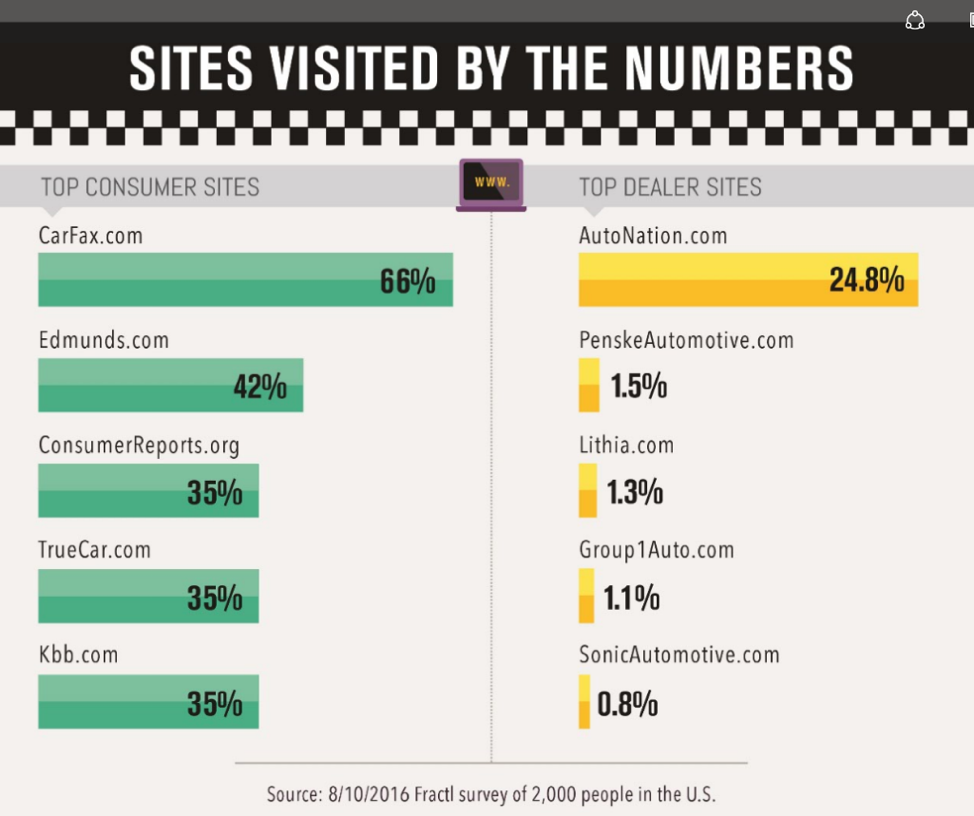 Today's Top Currency is Trust
We were not surprised to learn car shoppers in the preliminary research phase first turned to consumer research sites like CarFax and Edmunds. Once they had gathered enough information, shoppers then moved to the next stage in the buying cycle: dealer sites.
We learned consumers turned to AutoNation first in part for their fixed and firm what-you-see-is-what-you-get pricing policy. Savvy consumers today are searching for a reason not to trust a big brand and give their business to a competitor but this is not the case with AutoNation, who also scored high in trust primarily because of their recall-free stance and transparency on vehicle history.
According to their website and the loyalty of their customers, AutoNation differentiates themselves from other car dealers with their policy not to sell new or used vehicles with open recalls. AutoNation is known to be the only automotive retailer to guarantee recall-free cars. It is advertised that every vehicle also comes with a CarFax report and a "rigorous" safety inspection.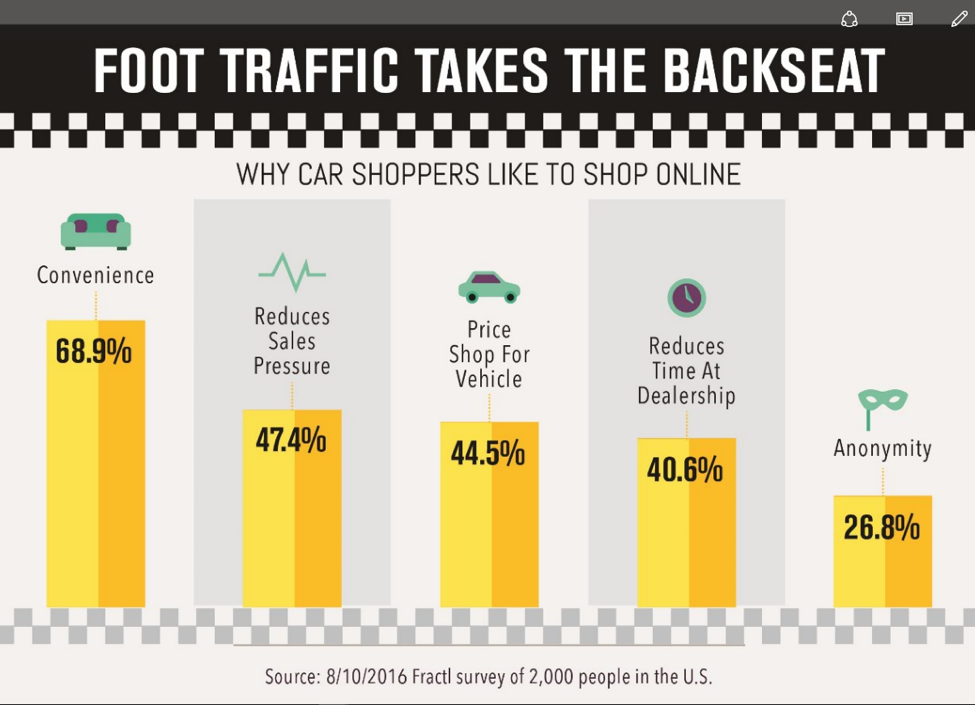 When we looked into top reasons car buyers like to shop online for cars, the top ranking factor was convenience followed by less sales pressure. What we found is consumers favor the shift from the showroom to the living room of the car shopper who is able to complete forms online that initiate the credit approval process and financing paperwork. 
Ideally, car shoppers would like to never set foot in a dealership until they have locked down the price and the agreement is ready to sign.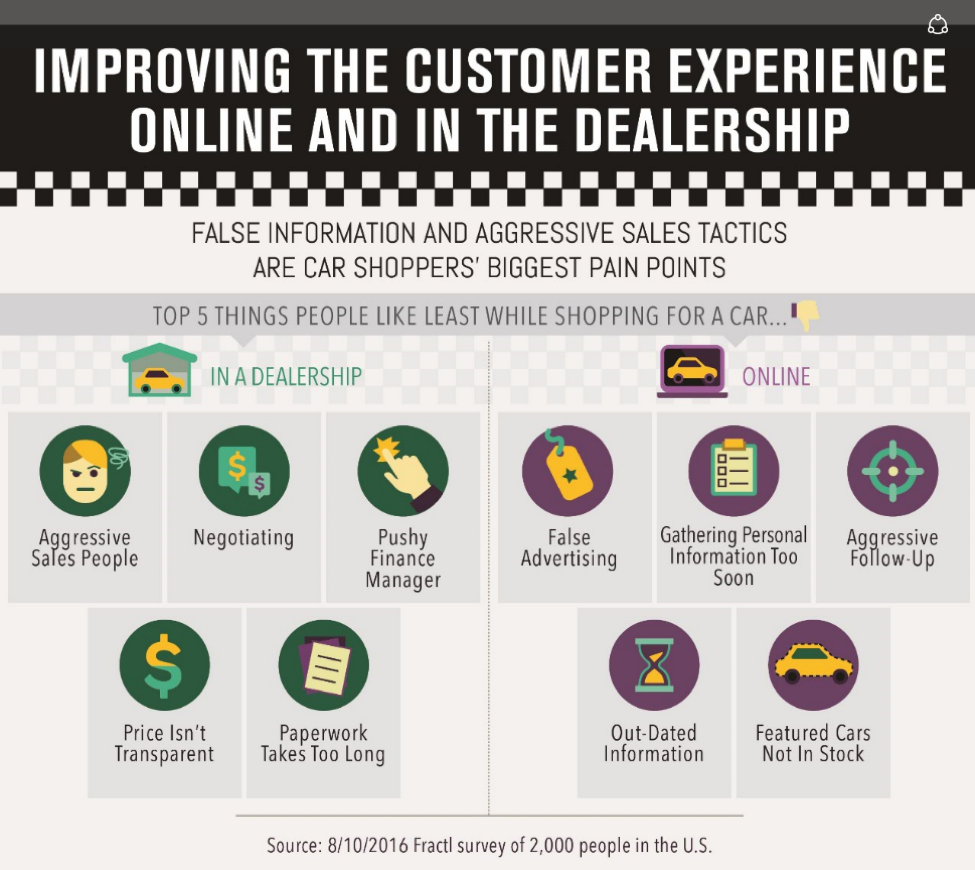 Pros & Cons
Consumer expectation is set online by the availability of attractive comparison-shopping tools and access to transparent information like price and physical location of the car.
It's no surprise the survey went on to reveal some of the worst things about car shopping online are high-pressure sales follow-up and pressing for personal info too soon. Online pet peeves also included the infamous bait-and-switch advertising of cars that are not in stock to tempt unknowing consumers into dealerships.
These behaviors may have worked pre-digital era but they are no longer effective—give a consumer the tiniest hint of deception and you've just scored a vocal opponent of your brand.
Of the 2,000 surveyed, we found their least favorite things about visiting the dealership are aggressive sales people followed by … price negotiation.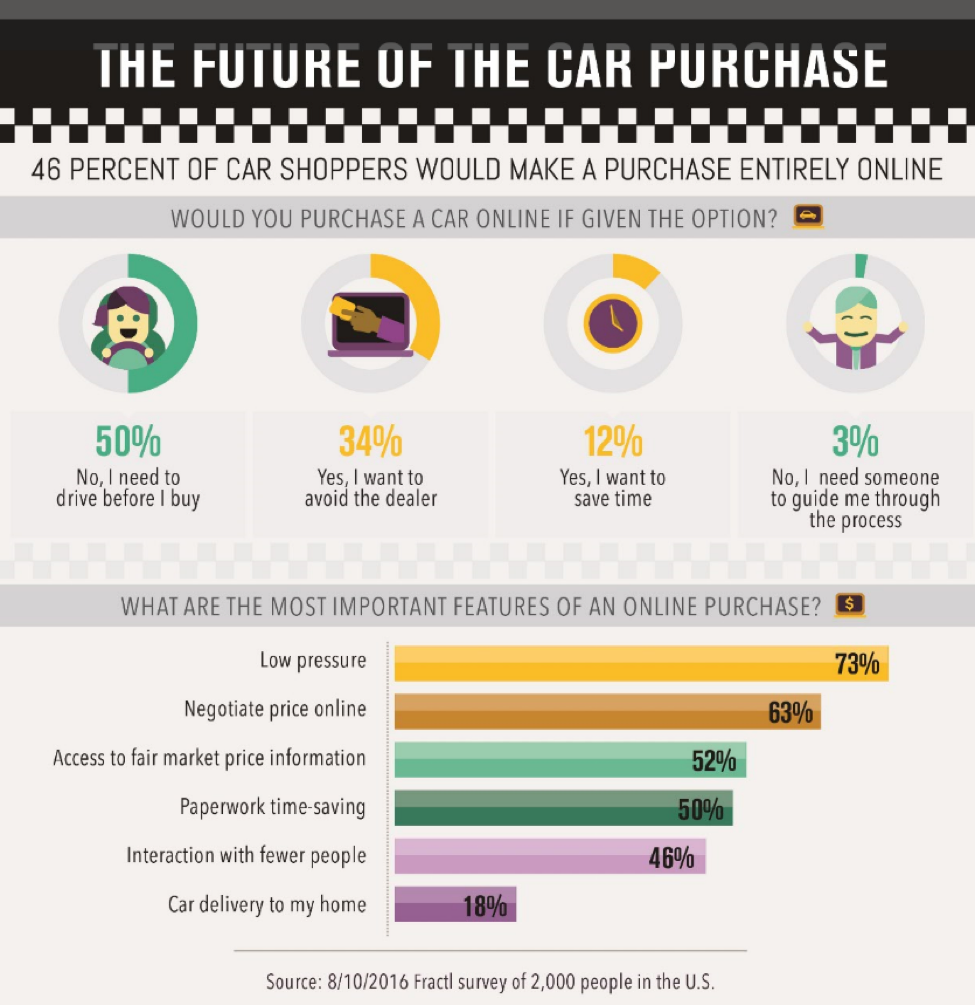 No Substitutions
State-of-the-art showrooms that put customers at ease and treat them like VIPs are the way to go. Although the data returned results like 46% of car shoppers would make a purchase entirely online if they could and 34% prefer to avoid the dealer altogether, we are not quite there yet, especially upon consideration of the fact that 50% of car shoppers reported a need to test drive before buying.
With the test drive, you can feel the heat of the engine, its throttle, and what it feels like to be behind the wheel. Practical matters are important too, like how comfortable are the seats and how does the car handle on the highway vs. city streets? Is it getting the MPG as advertised? And the list goes on.
But before we get to that critical test drive, we have the digital world to thank for the research tools at our disposal. Although it's not included in the scorecard below as a category, one of the vital deciding factors is the test drive. This is where fact and fiction is often revealed. Once you find the vehicle you want online, you should be able to test that car. Sadly, the cars pictured aren't always available. At least one of the major auto groups allow you to put the car you like on hold with a refundable deposit. With AutoNation you can reserve your car for a test drive and take it off the market. Car shoppers have up to 48 hours to show up at their local dealership and take it for a spin, without obligation to buy.
To see how top auto retail groups faired in all other categories, take a look at our scorecard below.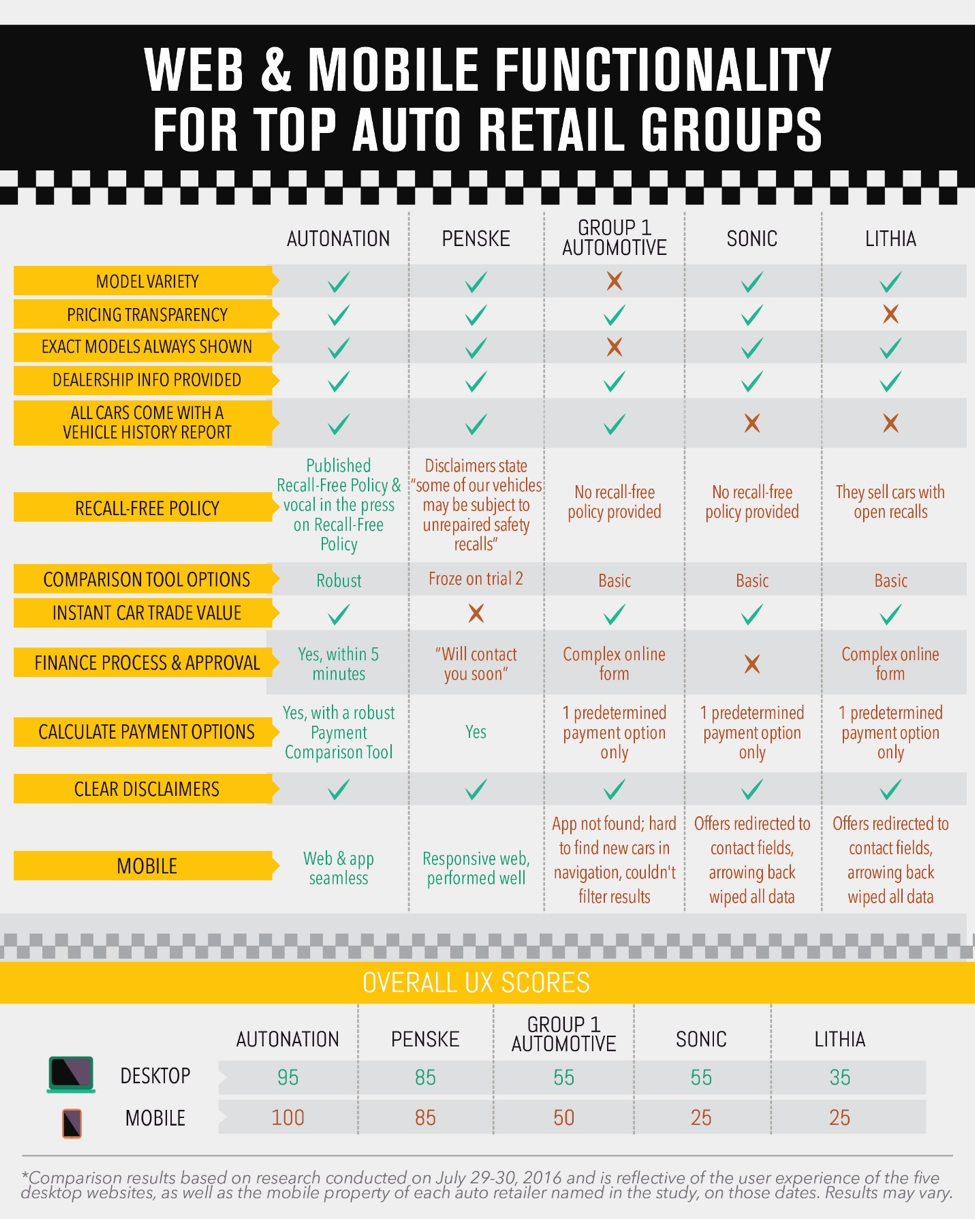 The Race is On
It's safe to say that brick-and-mortar dealerships are here to stay, however, consumers are demanding price transparency, low pressure, simplicity, and credibility before making a move. In a throw-away society, the instant your website or mobile app doesn't deliver on any of the above, you'll be passed over for someone who does it better.
The results of our comparison scorecard reinforce today's need to innovate or lag behind the competition. Technology can be both fascinating and scary. In the car buying process, tech is a win. Never before could the individual arm themselves with such valuable information to directly bring about the best outcome; meaning, they now have the power to find the best car at the best price, conveniently, and with the least amount of stress.
Be smart and use those online tools to your advantage and you'll be one step closer to that Hemi-powered Dodge Challenger of your dreams.
1. Source: 2016 Car Buyer Journey provided by Autotrader and Kelley Blue Book
↩