Common Expense Reduction Approach
Organizations looking to reduce costs usually are not really sure how to attack the problem, so they begin with headcount reductions, looking at ways to reduce services and supplies, and of course…renegotiating the big ticket items like uniforms, credit card processing, etc.
While there are many approaches to cost reduction, many of those solutions chosen are short term or tactical in nature. Most organizations tend to focus on price as the primary lever or strategy they pursue to reduce costs. A focus on price is a fairly typical approach in a decentralized environment when time is short, staffing is thin and results are needed quickly…bring in a new supplier with a cheaper widget or renegotiate the price of the widget with your incumbent supplier.
Questions to Consider
What can your organization do to ensure sustainable cost reductions?
Given limited human resources, is there a method to source and control costs efficiently?
Is pricing the only factor negotiated in your organization?
Is your organization leaving anything on the table today in your 130 expense categories?
Is anyone in your organization "getting into the weeds" concerning the details of your expenses?
Getting Into the Weeds
Someone in your organization has to get into the weeds with your expenses…if not, you are clearly leaving as much as 25% on the table day after day, week after week, month after month and year after year.
How can this be true? Research tells us that decentralized purchasing costs an organization up to 25% in missed savings. Our organization has results that support that claim as well.
I encourage all dealers, owners, executives and leaders to think about your current expense lines as untapped opportunities for profit enhancement. If your management team continues to focus only on short-term price concessions, and is blind to all other expense reduction opportunities, then you are leaving significant dollars on the table.
Getting into the Weeds Using the Five Levers of Expense Management©
The Five Levers strategy is a combination of sound purchasing practices, proven operational strategies, accepted audit practices and a proven method to reduce your costs today, next year and beyond.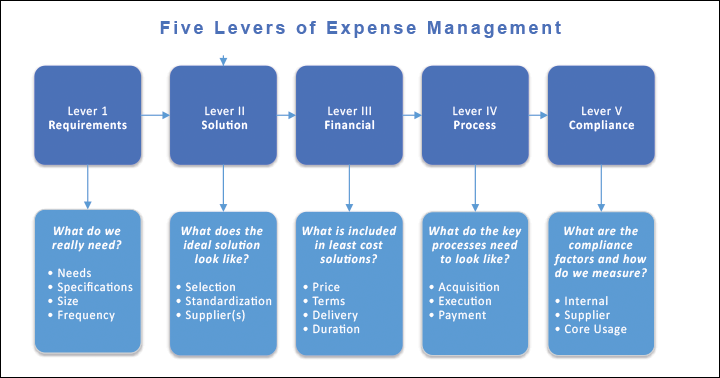 The Five Levers are explained below using various expense categories as examples:
Lever One – Requirements: Key elements = needs, specifications, frequency. If your waste contract came up for renewal, determine your true needs, validate the size (specifications) of the container you really need and the frequency required. While this step takes more work and time…the savings generated from the change in specifications might outweigh any price reduction you achieved on price alone leaving original requirements in place.
Lever Two – Solution: Key elements = selection, standardization and suppliers. If office supplies is under consideration, consider limiting choice (selection) to the low cost items, standardizing all office supplies under a core list of items that can be purchased without approval and then limiting the supplier base to one primary supplier. Again…savings here will likely exceed any short-term price reductions that can be negotiated.
Lever Three – Process: Key elements = acquisition, process and payment. If you are reviewing the credit bureau category, you should review the options (acquisition) of purchasing direct or through a reseller. Then, consider how many bureaus are you pulling (process) as a matter of course, and finally, how are you managing payment? Are you receiving invoices weekly, monthly, paid by check or credit card? Relatively minor changes here could exceed the value of reduced pricing.
Lever Four – Financial: Key elements = price, delivery and fixed terms. Once all of the items above have been decided and agreed upon, it is time to work on the unit price. Delivery should be considered on the front end and when possible, added into the product or service costs. Finally, early payment terms and rebates should be secured and together with price…protected for extended periods of time – 12-24-36 months. This process not only saves dollars, but saves staff time.
Lever Five – Compliance: Key elements = internal, supplier and core. If you and your team have gone through all this hard work to build a solution that will pay dividends for years to come, it is only reasonable to expect your employees and management to fully utilize that solution and only that solution (internal compliance). Next, supplier compliance is an audit of invoices against contracts and pricing agreements to ensure the supplier meets their obligations (supplier compliance). An internal review of employee use of core lists will demonstrate whether the solutions are being used at the item (correct items or service utilized) level.
Sustainable Cost Reduction Benefits
The Five Levers of Expense Management strategy takes more time than picking up the phone and cutting a new deal on some widgets. But the results will be real, compelling, auditable and will improve bottom line performance for the long term….a more efficient use of time.
Most organizations tell us today that revenues are up and so are expenses. In my view you have three choices:
Ignore the expense line and do nothing
Organize a half-hearted tactical attempt to cut costs by renegotiating some categories
Implement a strategic approach to managing costs using the  Five Levers approach across all significant expense categories.
Sustainable cost reduction results take more time and effort to achieve, but the ROI is worth the effort. Utilize the Five levers of Expense Management as your purchasing foundation and you too will create sustainable bottom line results.
If you are interested in a Five Levers expense tool that can be used at the category level to reduce costs, contact Doug Austin via e-mail at daustin@dealer-communication.com.