We love to talk about the things we love. Whether it's our favorite sports team or the new burger place we tried last night, we can't seem to help ourselves when things delight us – and it's totally natural. Almost effortless. It doesn't feel like an advertisement to us or the person we're sharing it with.
Anyone with a local business knows instinctively that they live and die by word-of-mouth. A recent study found that a staggering 90 percent of purchases are influenced by word-of-mouth. But how can you get people to talk spontaneously about your dealership like this? The answer is surprisingly simple, yet profoundly remarkable.
Primary Learning Objectives:
1. Learn how to give your customers a remarkable experience.
2. Discover how to kickstart a word-of-mouth engine for your dealership.
3. Learn how to "Give your customers somethin' to talk about" and boost business by word-of-mouth.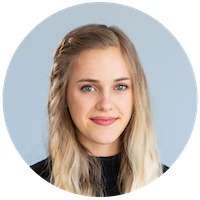 Hayley Sonntag
Marketing Manager, Podium
Hayley Sonntag has worked in many areas of marketing at Podium. She mainly focuses on driving demand through industry-specific publications and advertising. Hayley received her BS from Brigham Young University in Marketing. Her passion is understanding the market through research and customer feedback.