Broad Declines in Car Segments
Welcome to this week's edition of Black Book Market Insights, with in-depth analysis of used car and truck valuation trends and insights straight from the auction lanes. Click here to download the full report.
This week's Black Book Market Insights report shines a spotlight on luxury cars, particularly two-year-old models. Cars in this class are showing significantly weaker retention compared with previous year models in late summer. Interestingly enough, Luxury Cars (-0.61%) fared a little better this past week compared with other luxury segments, such as Prestige Luxury (-1.02%).
"Wholesale values of car segments continue their decline, now at the fastest pace seen this year, while most truck and SUV segments show stability," said Anil Goyal, Senior Vice President of Automotive Valuation and Analytics.
Volume weighted, overall car segment values decreased by 0.78% last week, same as the depreciation rate of 0.77% seen in the previous week.
Prestige Luxury Car, Sub-Compact Car and Mid-Size Car declined the most by 1.02%, 0.94% and 0.92%, respectively.
Volume-weighted, overall truck segment (including pickup, SUVs and vans) values decreased by 0.32% last week. This is better than the depreciation rate of 0.48% seen in the previous week.
Sub-Compact Crossover, Small Pickup and Minivan segments declined the most by 2.14%, 1.22% and 0.94%, respectively.
Retention Trends of 2-Year Old Luxury Cars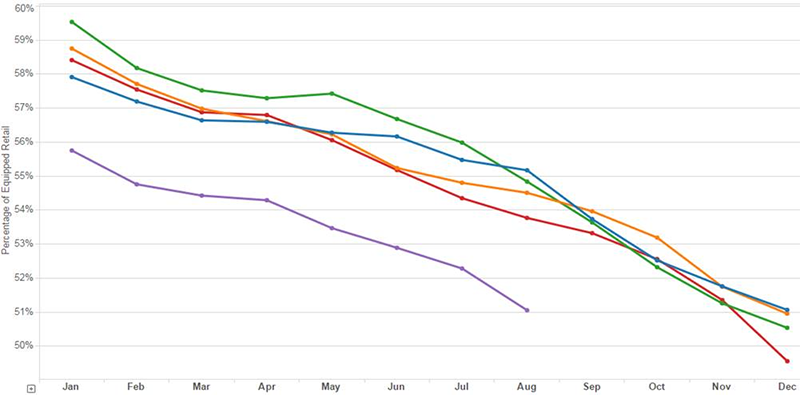 The current values of two-year-old (2014 model year) luxury cars are trending more than three percentage points lower than prior year's retention for similar vehicles at this point in their life cycle.