By Joe Fuca, CEO, Reputation
When it was reported that BMW was charging a subscription fee for heated seats, the automotive industry took notice. Major notice. And it wasn't all positive, either, as this sample reaction illustrates: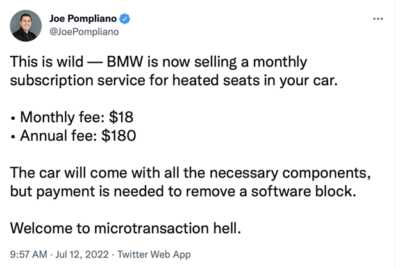 Welcome to a new path for automotive: microtransactions. Will subscriptions catch on with shoppers or create a customer experience headache for car manufacturers?
BMW Ain't the Only One
As reported, BMW has included a number of features in its automobiles, such as heated seats and heated steering wheels. But BMW has placed a software block on their functionality, and owners must agree to pay fees to remove them.
BMW is not the only car manufacturer that has embraced microtransactions. For instance:
● Toyota is charging drivers to use their car fobs to start their cars remotely, which previously had not cost extra.
● Tesla has been charging a subscription for certain services for some time, such as a Full Self-Driving subscription package launched in 2021.
● GM includes a compulsory subscription to its OnStar connected in-vehicle safety and security service, which adds $1,500 to the price of the vehicle. Previously, OnStar had been optional.
It's easy to see why manufacturers are doing this: subscription services mean additional revenue. GM told investors recently that the money it earns from OnStar generates 70-percent profit margins.
And subscription services are more efficient. A manufacturer can simply include the feature in all cars but unlock them (via software) only for people who pay a fee.
But is the subscription model what consumers actually want? In fact, according to a recently conducted Cox Automotive survey, 75 percent of consumers said they were not willing to pay an annual or monthly subscription fee for most items on their next vehicle. Rather, they expect most features and services to be included in the upfront sales price. 92 percent of those surveyed said heated and cooling seats should be part of the purchase price; 89 percent said remote start should be as well.
So, we should not be surprised that the general reaction to subscription services is negative, with an Automotive News columnist characterizing the fees as a consumer shakedown. Part of the issue is timing. The price of a car is already at an all-time high, and consumers have voiced displeasure over paying additional fees generally for buying and servicing cars. Subscription fees feel like one more mark-up on top of perceived mark-ups associated with the price of a car. (Indeed, paying additional fees was cited as a big driver of negative sentiment in Reputation's 2022 Automotive Reputation Report).
In addition, a subscription fee feels like a complication – one more transaction to agree to and renew. Owning a car could mean not only servicing it but also keeping track of a bunch of software subscriptions that may need updates.
What Car Manufacturers Should Do
Whether manufacturers are being fair is beside the point. Perception is reality. And right now, manufacturers have a perception problem. So, what should they do?
● Monitor consumer sentiment. This sentiment comes mostly from data in the wild, or reviews/ratings and social sentiment. Manufacturers need to be aware of not only the sentiment but the reasons behind the negativity.
Monitor competitors. As noted here, subscription services are taking hold among multiple manufacturers. So, monitor public reviews of competitors on the sites where people talk about them. Are customers reacting more favorably (or less) to a feature that a competitor offers but you do not? If so, why is that happening, and how might that sentiment inform your own strategy?
● Clarify. Manufacturers should articulate the details behind subscription services including their value to the consumer. For instance, subscription-only heated seats give consumers a choice to discontinue them if they are needed no longer (say, the owner moves to a warm-weather climate). And if indeed a service is new (as opposed to one that was previously free), the manufacturer should say so.
● Change the conversation. Buying a car remains an emotional and exciting experience. Now is a time to remind consumers of the big picture: there is more to a car than subscribing to a heated seat. What else are manufacturers providing in their new models to build excitement and loyalty? What are the coolest features of the 2023 BMW 7 Series? What is GM offering new to its 2023 models that will make the compulsory OnStar features more acceptable to consumers?
Without a doubt, car manufacturers are facing a tough market amid declining sales. The focus on profitable growth is sensible to manufacturers, but they need to help consumers get on board.
About the Author
Joe Fuca is the CEO of Reputation, the global leader in experience management. He is known in Silicon Valley for leading both private and public companies through worldwide growth phases, transformative customer success, and category leadership.