By Molly Dennehy, Brand Manager, Dealers United
In today's digitally dominated world, it is more important than ever to meet potential auto shoppers where they are online. And it is no shocking secret that today's savvy consumers (as well as their moms, coworkers, and best friends) invest their time on social media.
In fact, the average person scrolls through about 300 feet of mobile content on social content… daily. That's equivalent to the size of the Statue of Liberty!
With every swipe of the thumb, dealers have the opportunity to get their brand on valuable visual real estate. But what separates the average from the best converting ad campaigns is strategy. Specifically, leveraging different social media ads intentionally, with thoughtful messaging throughout the auto buyer journey.
The Auto Buyer Journey
According to Cox Automotive, auto shoppers are only in-market between 89-95 days.
This means that your dealership must strategically take an auto shopper from awareness to consideration to conversion in a limited amount of time — or just hope you get lucky.
Most advertisers are only delivering 1-3 messages to the shopper, hoping it's at the right time and with the right message.
But by intertwining an omnisocial strategy throughout "The Auto Buyer's Journey," dealers can engage the right audience, with the right message, at the right time, every time, on the platforms shoppers are spending time on.
Identifying Your Shopper
Let's follow an example of an auto shopper avatar, "Jen," as she goes from initial vehicle research to ultimately converting at your dealership.
Jen is 36 years old. She just moved to your area after welcoming her new baby, and she is interested in a hybrid or EV since she will have a longer commute to work. Jen has never been to your dealership, isn't in your CRM, and has not visited your website.
Since the average person today has eight social media apps and spends 2.5 hours on social per day, we can assume that Jen is on social media. In fact, her most-consumed apps are Instagram, TikTok, and Pinterest. (Fun fact: Pinterest reaches 80% of moms in the US.)
In her downtime, Jen starts doing research for hybrid vehicles on third-party sites. After a little investigating, Jen decides that she wants a new Toyota Prius between $28k-31k.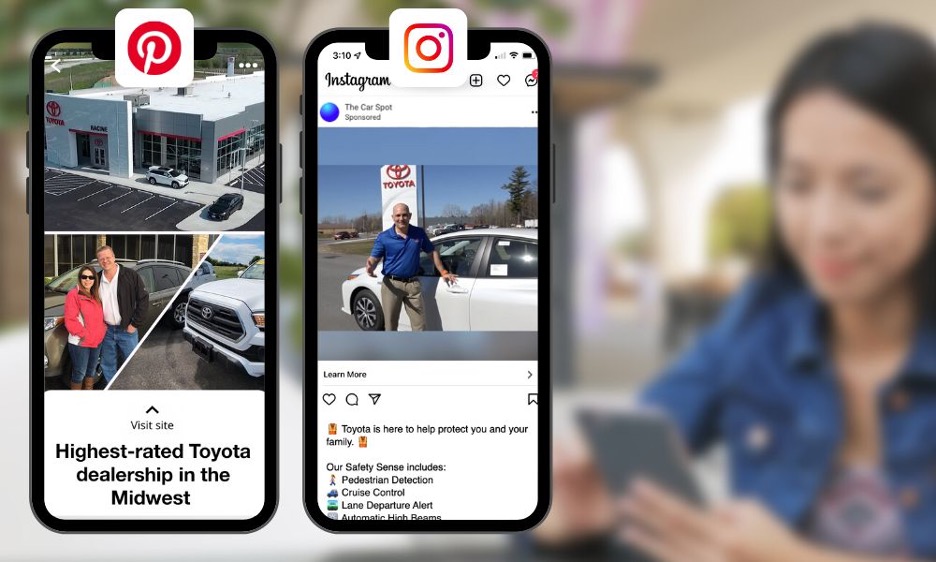 Bringing Awareness to Your Dealership
We now know that Jen is an in-market shopper in your PMA who is browsing for a new Toyota Prius and uses multiple social media apps. So, where do we start? What message, on what platform?
Well, we certainly could send Jen ads with your Toyota Prius offers at this point. But if you immediately start showing "sales-y" ads to Jen before you even have had a chance to introduce your dealership, it's like asking someone to marry you before you even know their name. And that's just… wrong.
Next time Jen hops on her social apps, you first want to capture her attention with ads that tell her more about your dealership.
These ads should include "Why Buy From Us" messaging that humanizes your brand and influences Jen to want to purchase from you – instead of your competition.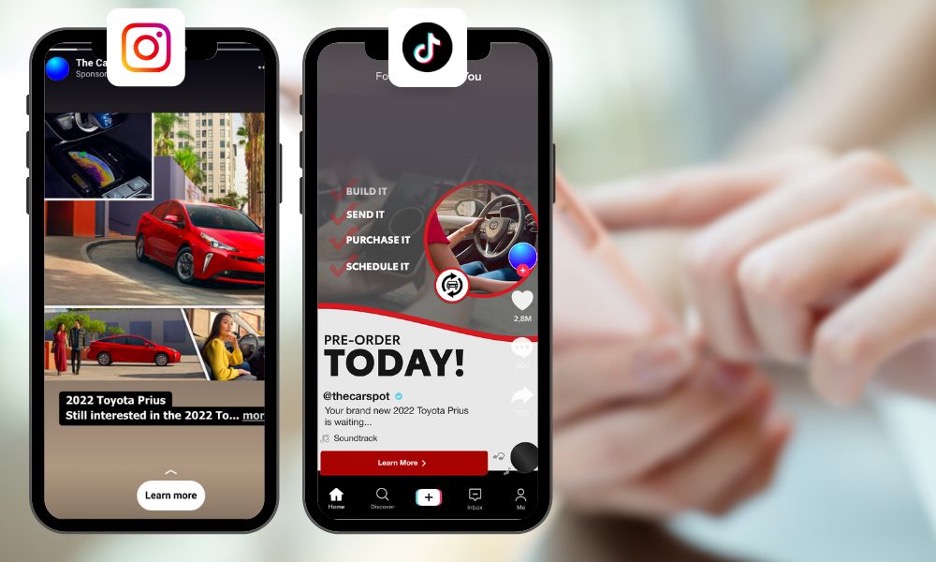 Winning the Conversation Stage
Once Jen is aware of your dealership and engaging with your Awareness ads through Views, Likes, and Video Watches, it's time for the second layer of messaging: Consideration.
In this stage, you want to accomplish three things: 1) Encourage Jen's interest in the Toyota Prius, 2) Inform her about current specials, available inventory, and your Pre-Order program, and 3) Continue to show that you are the best dealership for her.
With these ads, Jen can click through to your SRPs or website, which will trigger an event back to the social ad platforms that she's a warm prospect. So now you can place Jen and others like her into new ad audiences with lower-funnel messaging.
Now we're going to start showing Jen relevant live inventory that your dealership has on the lot. (Did you know? Dynamic inventory ads are supported across Facebook, Instagram, Snapchat, TikTok, and Pinterest!)
If she engages with your ads and lands on a VDP, you know once and for all that Jen is ready to buy.
But if Jen leaves your VDPs without converting, it's crucial that we retarget her to keep your store top-of-mind until she makes a decision.
With retargeting campaigns, "sales-y" ads are a priority. Retarget Jen with the exact VINs she has viewed or messaging based on the last website page she visited, such as Financing or Trade Evaluations.
Then, don't forget to continue messaging Jen about what sets your store apart. Customer testimonials, awards/accolades, and your involvement with your community are sure-fire ways to build trust with Jen through retargeting.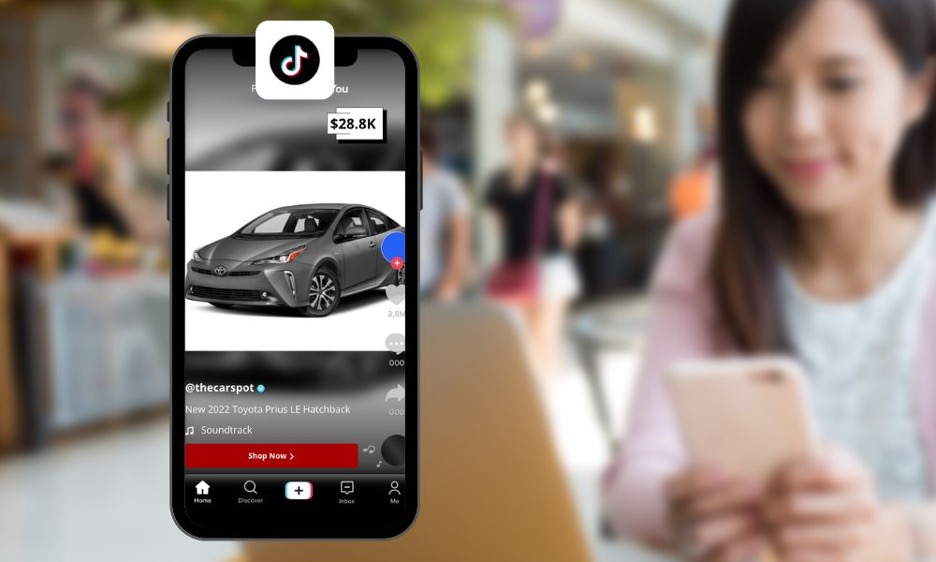 Attributing the Sale
Once Jen is the proud new owner of a Toyota Prius, how can we attribute that unit sale to your social media campaigns to PROVE it?
Nearly all social media platforms have a tool for measuring offline conversions, or sales, by securely uploading a list of recent customers into each platform.
Using data like the shopper's name and phone number, users are matched back to social media profiles, and you can see if they engaged with one of your social ads before they bought!
This will give you immediate insight into your return on ad spend and cost per unit sold, so you can stop guessing and start making better decisions with your advertising dollars.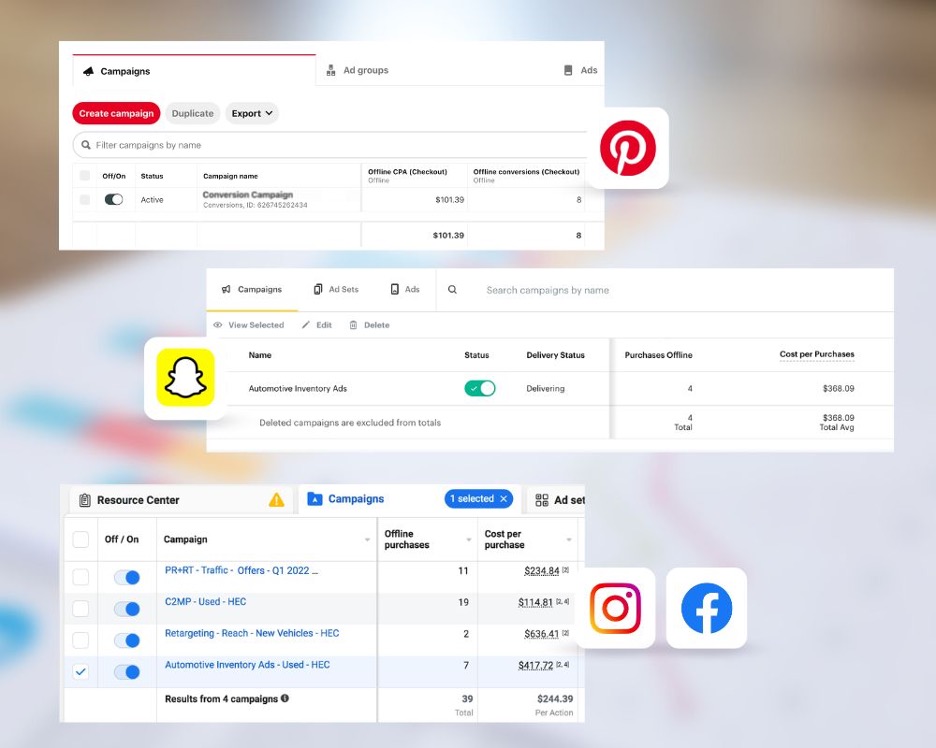 Customers for Life
Now that Jen is in your CRM as a successful sale, you can run service and promotion campaigns to her.
You can immediately start re-engaging Jen with service and tire offers to ensure she becomes one of your loyal customers — instead of a defector.
Plus, you can add Jen to a simple "Customer Nurture" campaign, where you periodically reach her with Customer Appreciation messages or invites to local events.
It's crucial to nurture these relationships even after the sale. You never know the connections one person can bring!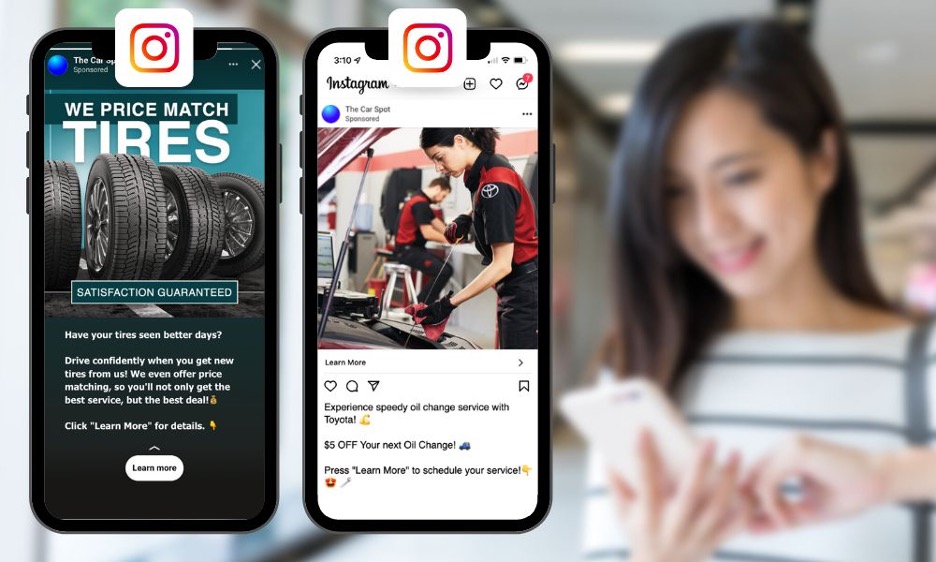 The Journey Never Ends…
By now, you understand the full spectrum of interactions in the auto buyer journey. There are so many opportunities to optimize each touchpoint to drive a potential buyer (and everyone they know!) into becoming a raving fan.
Social media is a digital marketers playground: internet users spend an average of 147 minutes per day on various platforms. Moreover, 63% of car buyers are discovering new vehicles online, and 86% of shoppers want to engage with brands post-purchase.
From prospecting and retargeting to nurturing the relationship (and revenue) post-sale, these strategies will help your business get the most out of your advertising budget.
If your business isn't leveraging digital marketing across the marketing funnel, your local audience is one click away from giving their business to your competitor.
To identify the most effective social strategy for your local market and advertising budget, generate a MarketAnalyzer report! This free tool will not only provide audience size and demographics for your area, but it also will calculate a suggested budget and return on investment for each social platform.
Check it out at https://app.dealersunited.com/analyzer#/.
About the Contributor
Molly Dennehy (Brand Manager, Dealers United) has evidenced effective digital marketing strategies across six different industries. Now, she brings her diverse experience and creativity to automotive dealers. From audience targeting, campaign set-up, and content creation, Molly is passionate about sharing new and innovative ways to drive results.