Dealers can't evolve if vendors can't or won't cooperate
Dealers are constantly getting beat up in the mainstream press (and in the showroom) about their lengthy, painful sales process. It's one of the reasons customers are frequenting fewer and fewer dealerships during their car shopping experience and it's why other models like Beepi, Carvana, Vroom, etc. are getting so much attention. Consumers just don't want to be stuck in an hours long dealership process that is confusing, complicated and wastes their time. Today's informed consumers want a seamless experience from start to finish: when arriving for an appointment, they expect staff to be up-to-date on the vehicle they are inquiring about and that all the information they input online is connected to the showroom sales process, conveniently accessible on a tablet computer, so they can be efficiently transitioned to F&I.
Dealers aren't oblivious to the fact that a change to the sales process is needed. In fact, in a recent survey by eLEND Solutions, the vast majority of dealers (85% of them, which is up 25% from 2014) say they want a sales process that lasts less than two hours.
But, in spite of what dealers say they want, the reality on the ground is quite different: 42% report it typically takes from three to five hours to sell a car at their dealership – a number that is virtually unchanged from the previous year's survey.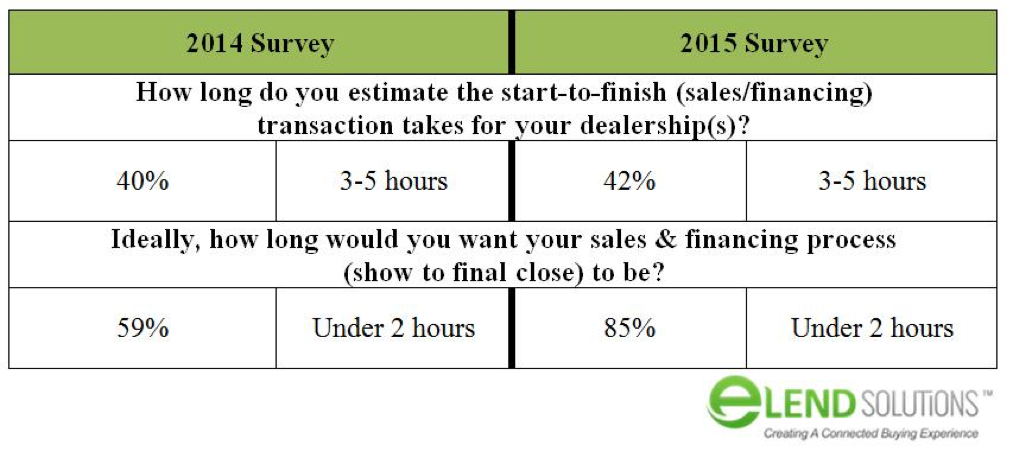 So, in a day and age where technology is enhancing just about every sales transaction –speeding it up and making it virtually frictionless – what's stopping dealers from improving their processes?
Interestingly, it may be that technology or, more to the point, technology providers are playing a role in hindering improvements during the car-selling transaction.
Inconsistent integration and data exchange across vendor platforms is a growing challenge for dealers – and to a streamlined sales flow – because it creates information disconnects and bottlenecks across the car purchase process.
It is a particularly glaring problem as consumers transition from online shopping to in-dealership buying. We can probably all agree that consumers today have strong expectations during the shopping and buying process – namely, they want to do as much as possible online. Once their research is finished, and a decision is made on the make and model they want, car shoppers are ready to begin the purchasing process. Some dealer websites facilitate parts of an online shopping experience with online pre-screening credit applications, trade-in tools and even deal structuring tools – yet, typically, once a consumer heads into the store much of the information they've submitted online is simply unavailable to the dealership, meaning all that information gathering has to start anew. Much to the frustration of the car buyer.
Consumers are quietly (and not so quietly) demanding an overhaul of the "typical" car-buying/shopping process by spending more time researching online, visiting fewer dealerships and wanting even more of the process to happen online, including financing. It's not surprising in a world where a majority of consumers bank online that the expectation for a transparent, quick decision, online financing experience is growing.
All of this is understandable – but how can our industry meet consumer expectations? The first step is fully integrating a dealer's digital retail tools into their in-store systems and platforms (e.g. CRM, Desking and Finance platforms, etc.), allowing data sharing that eliminates redundancies for both consumer and dealer – saving time at the dealership and improving the quality of the transition from sales to F&I, and, crucially, shortening the time spent in the F&I office (the step in the process consumers like least).
But this is not happening. Why? Partly because the myriad of vendor service providers utilized by dealers are not always willing or able to facilitate the two-way flow of information cross platforms and systems.
Unless vendors cooperate in order to help dealers connect the online and offline dots, dealers' hands are virtually tied because they simply can't leverage the technology between their preferred service providers.
In our survey, 86% of dealers agreed that vendor cooperation and coordination would facilitate a greatly reduced start-to-finish transaction time. Unfortunately, dealers are not optimistic that this can be achieved: 54% of dealers said that it is only somewhat likely and 19% said it is flat-out unlikely that this type of cross-platform integration will happen in the future.
Though many of vendors don't have open APIs for sharing data and processes, there are tools available that can solve the issue of data sharing in a secure, compliant manner. One example is the cloud-based system from Dealer Vault that gives dealerships control over the syndication and distribution of their DMS data – regardless of the DMS system they use.
Vendor integration that allows dealers to control and connect their data is vital to creating a connected car-buying experience for consumers – which means moving them quickly and seamlessly from the website or showroom floor into the F&I department.
Dealers can't do it alone! Achieving a shorter, more efficient sales cycle takes everyone involved in the process. In this case, it really will take the entire village to create seamless, real-time integrations and information exchanges between the dealer's website, CRM, Desking/Finance and DMS platforms.