Greg Kaminsky was in his late teens when he first encountered the automotive retail business. By the end of the first summer working numerous jobs in the dealership his parents founded, Greg was hooked.
Ten years later, his parents turned control of the Toyota dealership over to him and his brother Gary. Today, Greg is the president of both Toyota of El Cajon and of Honda of El Cajon, located in a community to the Northeast of San Diego.
The Toyota store is a model dealership. It's won the President's Award almost every year since 1992 missing only in 2002. It's also been awarded Toyota's Cabinet Award the last three years in addition to a myriad of other awards going back several years.
Greg also was nominated as the 2014 Time Dealer of the Year.
Meanwhile, the dealership is known in the San Diego community for being a leader in environmentally friendly initiatives. In addition to being LEED certified, the dealership has planted 33,334 trees since 2010 – one for every vehicle it has sold in that time.
Today, Greg is serving as the 2016 Chairman of the American International Automobile Dealers Association and is leading efforts to keep trade issues front and center during this year's election.
Your parents started the Toyota store in 1990 when you were in your late teens. Did you grow up in the retail business and was it something you always wanted to do?
A car dealership in the family is every teenager's dream, right? My brother and I realized pretty quickly that the reality is a lot of hard work.
The first summer my parents had the store they made it clear they expected Gary and me to pitch in and help out. I washed cars, answered phones, and was exposed to just about every aspect of running a dealership. Definitely not a dream job – but by the end of the summer the business was in my blood.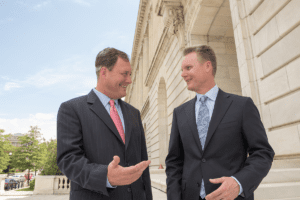 What was the process like for turning the store over to you and your brother Gary?
Our parents never made us feel pressured to join the company, which I think allowed me to fall in love with the industry in my own time.
The whole process was surprisingly easy. Our dad was excited to pass the torch, and because we always worked in the store the transition seemed very natural. We still have our father's full support. As a former dealer he's unique in that he isn't interested in micromanaging the next generation, and so we feel comfortable seeking him out for advice.
What led to the addition of the Honda dealership?
It was such an easy, organic move. The Honda store is next door to our Toyota store and we always had a great relationship with one of the former owners who became our partner. For me it was just one of those opportunities I couldn't pass up.
What's your biggest challenge as a dealership principal today?
I can think of a few. Technician shortages is a big one. There is so much competition to attract and keep the skilled workers we need. Also the work mix is changing from heavy repair to maintenance work, which could be reflected in our gross margins.
Third party lead providers are also changing the way we do business. They're not going anywhere, so we need to be flexible and smart in how we communicate with our customers. It's all about figuring out the new norm.
Another big one, especially in California, is the regulatory environment. New minimum wage laws, water restrictions, if you can think of it California is regulating it. Little things add up to a lot of man hours ensuring compliance.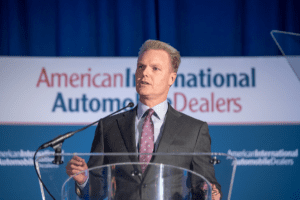 On your LinkedIn profile – and on the dealership website, you list family values, integrity, honor and an honest respect for guest satisfaction as being cornerstones of the Kaminsky legacy. What are some specific ways you maintain that?
I never made an active decision to do business one particular way. It was just the way Gary and I saw our parents operate, and it made sense. By far the best way to ensure our values are being kept is by being personally involved with our team. They need to see first-hand that we're walking the walk. That helps us attract and keep really outstanding personnel. We don't have a lot of layers of management and our employees all feel connected to the company.
How many employees do you have across both stores?
300.
From your website, it's clear that being environmentally aware is important to you. You're also becoming known for planting trees for every car you sell. First, how many trees have you planted since starting the initiative? And second, describe how being environmentally active helps the business.
As of today, we've planted 33,334 trees. We started in 2010 working with an organization that plants in areas ravaged by wildfires. Now we're partnered with a local organization that plants along the San Diego River. I love that it's such a real, tangible way to give back to our community.
My concern for the environment isn't a marketing ploy – it's genuine. Our Toyota store is LEED certified. And customers in our area around San Diego really respond to that. All dealers talk about the best price and best selection, so the environmental work helps differentiate us.
El Cajon Toyota and Honda are privately and family owned stores. Is it getting harder to compete with stores that are part of larger groups?
Big dealer groups really aren't our main competitors. They get a lot of coverage in the media, and are growing fast, but the vast majority of dealers in this country are still small businesses like ours. We've found that we can't get caught up in worrying about national trends – we have to focus on what's going on in our own backyard and how we can remain competitive through customer satisfaction.
This year, you're the chairman of the American International Automobile Dealers Association. What led you to become involved in the association?
Toyota has been a great partner of AIADA over the years. They encouraged my dad and me to get involved and attend what was then AIADA's Congress and is now their annual Summit in Washington, D.C.
AIADA's message of involvement really hit home with me. Watching my dad, I saw that part of being a successful dealer is being invested in the future of the industry as a whole. Today, especially in our current political climate, that means dedicating some of my time and energy to telling the dealer's story on the national level — how we give back and how we are the economic engines of our communities. As AIADA's Chairman I'm in a unique position to make the international nameplate dealer's voice heard in Washington. That's an honor I take seriously.
The big issue is trade. Why is it so important to dealers selling international brands?
It's a huge issue! Dealers of international brands need to be vigilant. We need to remember that while our manufacturers invest billions in U.S. plants and employ hundreds of thousands of Americans, some legislators still view them as foreign.
It just takes one bad piece of anti-trade legislation to destroy our businesses. The 25% 'chicken tax' on import pick-ups is a great example. It has hung around for 50 years, hurting our economy and limiting consumer choice, thanks to a trade war with Europe over chickens. Anti-trade talk has consequences, and it could be devastating, not just to dealers, but to our entire country.
Americans love international nameplate vehicles. Our dealers were responsible for something like 59 percent of all retail sales last year. But we can't forget that we do have opposition. We need to remain watchful and support organizations like AIADA that defend trade.
At the recent AIADA Summit in Washington D.C. two of the political speakers both admitted trade has become a dirty word in the political world today. Much of that is due to a certain presidential candidate. How does that affect your current strategy in D.C.?
I've been blown away by the anti-trade rhetoric coming out of both parties this election year. Trump isn't alone. Hillary Clinton supported TPP when she was Secretary of State, but now she suddenly has reservations.
My strategy is to work with AIADA to get the real story of trade out there. And luckily we have the facts on our side. We know that without trade the spending power of regular Americans free falls. We know jobs would be lost because markets for our goods would dry up. We know that our national security interests would break down without the alliances trade builds. We just need to make sure everyone else knows.
I have to believe the facts, and the economic realities we face, are stronger than the knee-jerk protectionism of our politicians.
You're in your early forties, Greg. As you look to the future, what are some of the trends you're watching closely?
I wonder a lot about the growth of autonomous vehicles, ridesharing, and how things like software updates downloaded directly to a vehicle could impact dealer traffic and customer-dealer relationships.
Another trend I'm constantly working to stay on top of is speed of delivery. No one wants to wait around for a few hours at a dealership anymore. Time is tight for everyone. And I get that! My wife and I have four kids to keep up with. So I am constantly looking for ways we can appeal to busy shoppers and streamline the sales process while staying true to our core principles.