Your website and inventory are stellar, your reviews are impeccable, you've caught a potential customer's attention, and now they want to use the phone to get to know you better.
What does the data tell us?
"How long should a phone call last?" is one of the most commonly asked questions. "Not too long", General Managers preached for years. "Keep it under 3 minutes", they said. "Get their name and number and call them back!"
Those who broke this golden rule were destined to be embarrassed by having their calls played during Saturday morning sales meetings. Or worse, they'd be barred from the phones. Who wants that? With the phone being your number 1 lead source, few can afford to have that ripped from under their feet.
But…times have changed, and so has the way our customers choose to shop for their next vehicle.
Here's our take: A phone call should only be long enough to entice the customer to visit your dealership instead of the competition. That may sound vague, but there is no hard-and-fast call duration rule that works for everyone. Factors to consider include customer needs, tone, whether they are a repeat customer, and whether or not they've done research before calling you. Every customer is different.
Keep this in mind: In today's world-we have DVR, we have text messaging, you can get breakfast all day, every day at McDonalds…and one click same-day delivery online shopping through Amazon.
What does this say about today's buyer? They're not sitting captive on a couch waiting for their favorite show to come on at 8:00 PM. They skip commercials and they binge watch an entire season in one night through their DVR or Netflix.
They text because they want control over when they will respond. They want breakfast after 10:00 AM. They'd much rather avoid traditional store hours…and lines…and instead make a one-click purchase from their phone app in their PJ's or at a stop light (Ugh! Please don't use your phone while driving…especially if the light turns green!).
We have arrived to a place where the customer demands control of their precious time.
Let's respect that.
With this in mind…we turned to Steve Chisholm, our resident data scientist, to crunch the numbers and help us better understand what customers want. After a few hours of purifying the reports from our multi-million call archive, we found some interesting results.
Here is a graph showing appointment set percentages based on time: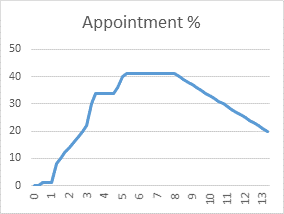 We found an interesting correlation of appointment percentage averages and time spent in conversation with a potential customer.
There were two major sweet spots: Between 3 and 4 minutes (34% appointment set), and then a bigger and better target of 5 to 8 minutes (40% appointment set). The two plateaus show us that our customers are different. That success can be found in two areas; brief concise conversations from 3.5 to 4.5 minutes, and just detailed enough from 5 to 8 minutes. It also shows us that our chances of setting an appointment are drastically reduced under 3 minutes and over 8 minutes.
So does the old under 3 minutes' rule work for today's customer?
The data tells us no.
…And now for the "Wright Call Rant".
From a training perspective, this has always made sense to me. Our customers want a quality conversation. Too often we have been brainwashed to think that all we need to do is disregard their questions and ask them to come in for a test drive. Oh yeah, and awkwardly ask for their contact information without a reason and before we've earned it.
If you do that today, you run the risk of getting hung up on. Millennials, smartphone shoppers, and 5th generation car buyers set today's rules of engagement. Listening will help you determine if you need to be extra thorough or quick and to the point.
So, where did the idea of an under 3-minute call spawn from? Dealerships that have little to no faith in the people they have handling their phone calls. They urged reps to keep it quick and provide very little information because they didn't train them properly. They felt that extra conversation could lead to a customer ruling them out. But, the reality is that extra conversation could actually produce more reasons for us to invite them into our dealership…if we take the time to listen.
I always enjoy asking dealers, "how are the phones different from what we do when the customer arrives? When they walk in the door…do we start doing paperwork? No!" And for the same reason we have a showroom process, we should also adopt a phone process including a proper greeting, a promise to serve the customer, a basic needs analysis, an attempt to earn their contact information, an honest and energetic request for an appointment, and the proper farewell.
The best way to understand what they want is to let them talk while you listen. In the restaurant industry, the service provided by a waiter/waitress or bartender can help us understand this nuance. If a customer comes in looking rushed, placing an order upon being greeted, and asking for the check in with their credit card ready, it lets us know we should be extra snappy to serve them as fast as possible. If a customer comes in with guests and they mention that it's their first time visiting, it's time to roll out the red carpet. We impress them with menu recommendations, we may offer them a sample, make sure their drinks are always full, bring extra bread, and introduce them to the maître d'. In both instances, we read the customer and serve them according to their needs. If we accomplish this, we usually are rewarded with a tip.
The same goes for the phone call in the automotive industry. If you listen to your customer, treat them right, and respect how they want to spend their time – you'll likely be rewarded with their business for life.