But Has Minimal Impact on Future Dealership Selection
Mercedes-Benz Financial Services; Lincoln Automotive Financial Services; Volkswagen Credit; and Ford Credit Rank Highest in Their Respective Financing Segments
WESTLAKE VILLAGE, Calif. — There is a strong relationship between an exceptional vehicle loan or lease servicing experience and customer intent to use the same finance provider again, according to the J.D. Power and Associates 2012 Consumer Financing Satisfaction StudySM released this week.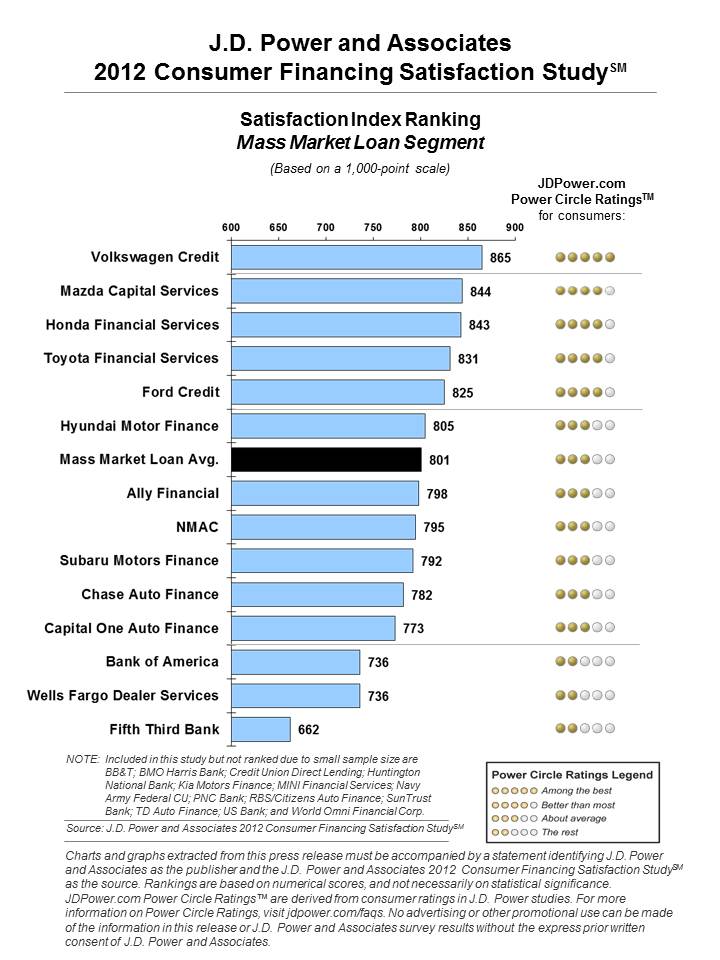 The study also finds that there is a minimal relationship with the servicing experience and customer intent to use the same dealership for a future vehicle purchase or lease, whereas the in-dealership experience significantly impacts likelihood to return to the same dealer.
"A superior servicing experience translates into greater lender consideration for future business," said Lisa Stimac, account director automotive finance at J.D. Power and Associates.  "While a similar relationship does not exist with respect to considering the same dealership, finance providers may still influence dealer consideration by ensuring efficient approval processes and knowledgeable staff."
"Most consumers just want the vehicle-buying process to be simple. Financing is a tough area to simplify, but by providing seamless, fast service throughout the loan or lease period, financing providers increase their chances of being re-selected and building brand loyalty."
Many of the best practices in auto finance servicing are related to problem prevention. These practices include providing service alerts; reminding customers of a payment or confirming when a payment has been made; providing accurate and informative billing information; and offering alternative, easy-to-use methods for reviewing account information.
"Addressing and resolving problems that do occur serve the dual purpose of increasing customer satisfaction and minimizing the number of interactions with the lender, which takes time and resources," said Stimac. "Of course, when a customer experiences a problem, resolving it quickly and efficiently is critical to recover the lost goodwill from problems in the first place."
The study measures customer satisfaction in four key factors of the new-vehicle financing experience: billing and payment; interest rate/monthly payment; website; and phone contact. The study is conducted across four consumer vehicle financing segments: mass market loan; mass market lease; luxury loan; and luxury lease.
Consumer Financing Segment Rankings
Mass Market Loan Segment: Volkswagen Credit (865) ranks highest, performing particularly well in billing and payment as well as interest rate/monthly payment, followed by Mazda Capital Services (844) and Honda Financial Services (843).
Mass Market Lease Segment: Ford Credit (827) ranks highest in the segment and performs particularly well in all factors, followed by Volkswagen Credit (816) and Honda Financial Services (802).
Luxury Loan Segment: Mercedes-Benz Financial Services ranks highest with a score of 853 (on a 1,000-point scale) and performs particularly well in phone contact, followed closely by Acura Financial Services with a score of 852. BMW Financial Services ranks third with a score 848.
Luxury Lease Segment: Lincoln Automotive Financial Services ranks highest with a score of 826 and performs particularly well in all factors. Following in the rankings are Lexus Financial Services (808) and Mercedes-Benz Financial Services (806).
The 2012 Consumer Financing Satisfaction Study is based on responses from 11,259 new-vehicle purchasers or lessees who completed a vehicle loan or lease transaction between June 2011 and May 2012. The study was fielded between August and October 2012.
About J.D. Power and Associates
Headquartered in Westlake Village, Calif., J.D. Power and Associates is a global marketing information services company operating in key business sectors including market research, forecasting, performance improvement, Web intelligence and customer satisfaction.  The company's quality and satisfaction measurements are based on responses from millions of consumers annually.  For more information on car reviews and ratings, car insurance, health insurance, cell phone ratings, and more, please visit JDPower.com. J.D. Power and Associates is a business unit of The McGraw-Hill Companies.
About The McGraw-Hill Companies
McGraw-Hill announced on September 12, 2011, its intention to separate into two companies: McGraw-Hill Financial, a leading provider of content and analytics to global financial markets, and McGraw-Hill Education, a leading education company focused on digital learning and education services worldwide. McGraw-Hill Financial's leading brands include Standard & Poor's Ratings Services, S&P Capital IQ, S&P Dow Jones Indices, J.D. Power and Associates and Platts, a leader in commodities information. With sales of $6.2 billion in 2011, the Corporation has approximately 23,000 employees across more than 280 offices in 40 countries. Additional information is available at http://www.mcgraw-hill.com/.