Installment #1 of a 3-Part Series on How to Evolve the Reconditioning Dept. Into a Profit Center
If you recondition 75 or more a month, the effort should turn a profit for the dealership, not leak it, as so many reconditioning department processes unfortunately do.
Approaching vehicle reconditioning from a continuous process improvement mindset will work miracles in how efficiently recon turns out frontline-ready vehicles.
General managers who commit to transforming recon into a modern assembly line using Lean management improvement steps can create enormous new opportunity for their dealership.
Among them, dealership managers who embrace this "new normal" sell more cars more profitably.
Consider these facts, based on hundreds of dealership practicing Time-to-Market process improvement from vehicle acquisition to the front line:
A used car department putting 100 units a month on the frontline that retails 100 units a month enjoys a 12-turn rate. At an average 10-day recon cycle, a five-day reduction or improvement translates to two turns of inventory. This operation now enjoys a 14-turn rate.
Based on a conservative $1,500 front and back gross per unit sold, increasing turn by two means the dealership will sell twice the product for an additional $300,000 per year – or $25,000 added profit per month.
Every recon department incurs holding costs. This cost is an accumulation of the daily charge against every unit the dealership owns until sold. This cost ranges from $32 per vehicle per day, on average. Ability to move vehicles through recon faster with no loss in quality means less holding cost erosion against sale gross. Time-to-Market speed determines holding costs influence on used car gross.
Adapted from Lean manufacturing, a discipline used to remove waste, cost, and time from manufacturing processes, more efficient Time-to-Market improves workflow, eliminates bottlenecks and communications delays. As a manual process, running recon to achieve continuous improvement is almost a superhuman discipline. Recon workflow software makes this goal achievable, easier, and more certain.
This article is the first in three articles for dealers, GMs, and used car, service, and recon managers about how to bring the transforming outcomes of Time-to-Market to their dealership.
The jagged line to the front line
The reconditioning process seems straightforward, but rarely is. This straight-line falls apart as vehicles are pulled out of line to wait for repair approvals or sublet work. Lacking a reliable tracking system, units pull out of line too easily is "lost" on the lot or "forgotten" at sublets. Body shop practices that lack the same flow process this series will discuss also delay the recon line – and for more days than often necessary.
Any delay erodes margins.
This chart illustrates ideal recon workflow:
Managing Workflow Control through Recon Streamlines Communications and Reduces Cycle Days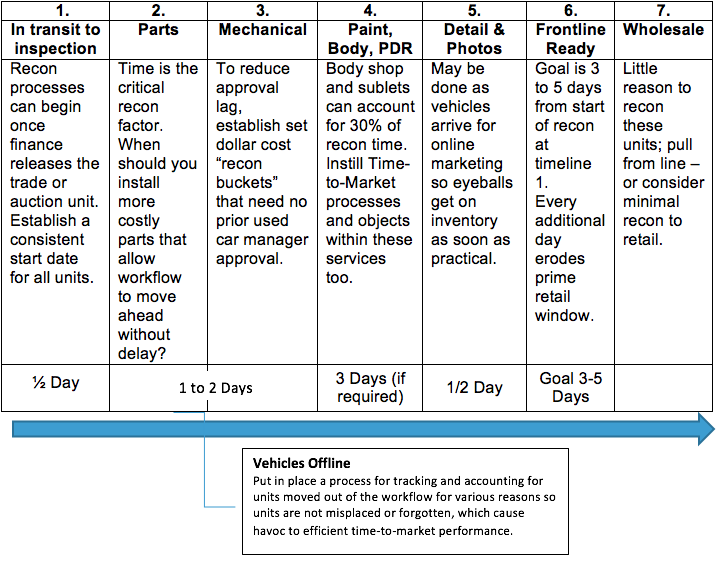 To get a jump on retailing incoming units, some dealers photograph them as they enter the recon flow from trades and auctions so the Internet or BDC department can post them to your website or third party shopping sites. An "out for detail" note in a description box or text-over-photo lets interested shoppers know why the vehicle might present with less polish or an imperfection the vehicle will show when re-imaged when truly frontline ready.
Know your holding costs
Finally, get realistic about holding costs.  Too many reconditioning shops honestly believe their processes take three to five days. When software-driven workflow management is applied, however, the factual cycle time is more like seven to 12 days – or more! Shops will consistently experience three-to-seven-day Time-to-Market cycles when recon is managed by workflow software.
As you look to modernize:
Determine when recon starts: This will vary by dealership. Typically, recon can begin when the finance department releases the trade or auction vehicle; you now own it.
Establish pre-approved repair buckets: One of the most consistent and aggravating factors that slows the recon process and forcing everything to wait, is delayed communications. Specifically, this means a lag in sending and receiving repair approvals from the used car manager. To address this, consider establishing pre-approved cost "recon buckets." Pull historic recon costs for the typical make/model the dealership reconditions. Segment these jobs further by mileage groupings. Unless inspection finds something out of the ordinary, four mileage-range buckets should cover repairs found on most units of those miles. Those repairs can get underway immediately.
Track off line units: Have a reliable way to track when units are taken off line and their destination. Walk lots daily to find "forgotten" units. Keep current on sublets to control delays.
Compensate techs differently. Focus compensation on a production-based measurement. A specified completion time window per vehicle will stimulate parties involved to work smarter and harder to move units through recon in fewer days. Consider spiffs for meeting goals: remember the larger picture – reducing holding costs, and turns that improve gross. 
Don't over-conditioning: These costs are rarely recovered. Instead, focus on issues buyers will notice before they every do mechanical needs. Be sure scuffed wheels, glass and other elements are shiny and ready for inspection; buyers' eyes lock on the small details first.
Manage by clock: Focus on productivity – the rapid flow of cars through recon is a key performance indicator. Approve a more costly part if it will get a unit frontline sooner. Set a daily completed-vehicle production goal and pay techs according to that goal, not hours. Shave time where possible.
Share the flow: Everyone on your recon crew should have quick access to the status of his or her work, measured against clock time for his or her particular responsibility and against the overall workflow time. Software that structures recon processes and holds personnel accountable for time and production goals improves flow, visibility, communications, and time to market. It tracks where vehicles are in the process – even those forgotten in a far corner of the lot – so no car is left behind.
Evolving recon into a profit center that runs like a Lean assembly line gets inventory frontline ready faster, which can increase turn so you sell more cars. Discipline and recon workflow software help make a profitable, efficient modern recon department reality for you.