After teaching hundreds of dealer management classes here and abroad, which included calculating how productive the service technicians were; I determined the average Dealer tech output to land around 80%, including the almost-not-measurable oil change wranglers. That translates to a technician producing some 6.4 flat rate hours for every 8.0 clock hours; not always enough to pay the bills for the piece of cement they occupy. Obviously, this varies with franchises, market, expense, and managements' capability.
Using $80 per hour as an "effective labor rate," that calculates to $64 per clock hour income (at 80% output) in the stall before the tech pay and benefits are subtracted. A common expense calculation for an "occupied" dealership stall (what pays them darn bills) is around $10,000 a month. Dividing that figure by the 160 hours a tech is working (hopefully) that develops a figure of $62.50 per clock hour of expense after Lefty is paid. To break even at the $64 clock hour income, Lefty would have to work at a flat rate of $1.50!
Math Palooza
Obviously, a technician's greatest asset to the dealership is producing labor and parts sales. The whole point of employing a tech is to generate enough income to cover the expenses, and at least a 20% profit to ensure the department stays in business. So, $62.50 per clock hour x 1.25 (25% markup to gain 20% margin) = $78.13 per clock hour needed plus what you pay Lefty. If you pay Lefty $20, the cost of sale is $20 / $80 ELR = 25% creating a margin of 75%. $78.13 bill-paying clock hour / 75% = $104.17 per clock hour income needed in the stall to net 20%. $104.17 / $80 ELR = 130% output (10.4 FRH daily) needed from Lefty to hit the target, with Lefty earning $26 per clock hour or $4,160 for the month. Total labor income is $16,667 – $4,160 Lefty pay = $12,507 gross profit – $10,000 expense = $2,507 net profit, 20% margin. See how easy that wasn't.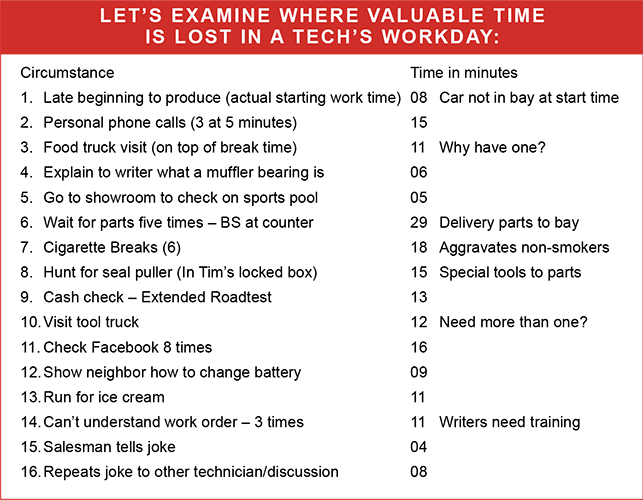 This example identifies how important these factors are for earning a profit: ELR, Tech Output percent, and Tech Clock Hours. These are factors that have to be measured and managed every day, not once a week or bi-monthly as I see many managers do if they measure much at all.
How valuable is technician time?
In a service operation, the only inventory is time! Time is a unique commodity – once it's gone; it can never be recovered. Technician time performing non-revenue producing activities is lost time which can't be billed. So what is one technician minute worth? To simplify, let's analyze $80 per flat rate hour at 100% output. At this rate, one technician minute is worth $1.33 of labor income (plus parts). Consequently, for example, if only ten minutes are wasted somewhere in the repair/maintenance process, $13.33 of income is gone forever. It's evident that time relates to money in service and any lost time instantly depletes the potential bottom line, as well as tech income.
Let's examine where valuable time is lost in a tech's workday:
Well, that adds up to 3.6 hours of lost time and the significant income to go with it. Of course, if the technician is being paid by clock hours there is no loss to him/her, only to the dealership's service and parts departments. While this time loss may seem exaggerated, any portion thereof is too much.
A different approach
A smart move to remedy this situation is by developing flat rate technician pay plans for all techs, no matter their skill level, and/or installing some type of pay incentives for achieving predetermined output targets. Measure and post everyone's production results every day for all to view. Watch the peer pressure create improved results as the competitive human spirit influences performance. If you employ someone who doesn't care, you know what you have to do.
Secondly, calculate the breakeven goal for each tech, which will vary depending on how much the tech is paid versus the effective labor rate they produce – i.e. maintenance techs create a lower rate. Share the figure with the current and new-hire techs to drive home the need for measuring and monitoring daily tech output, including person-to-person management feedback – celebrate results or fix them.
I like to survey the tech, ASM, and parts counter staff to find out what causes them to lose time, which gives the service and parts management team direction in making impactful improvements – and this really motivates the staff – showing management cares about their needs. Most of these valuable workhorses are full of useful information for improvement, but no one asks!
Try this Max
If you are serious about determining, then attacking the areas wasting your team's time, costing the service and parts departments (and employees) a lot of bottom line, send an email to me at EKovalchick@Dealer-Communications.com. Put on the subject line "Emp Imp Survey-Help Help," and I will send you a survey I have used successfully to determine where to start improving income. The worst that can happen is that your people realize that "Maybe the SOB does care" and the morale will be boosted a bit.