What is EMV?
EMV, the acronym for Europay, MasterCard and Visa, is the process of embedding payment cards with microchips to authenticate the card and its user. These cards are used as a more secure way to process payments.
In the wake of several large-scale data breaches and increasing rates of counterfeit card fraud, U.S. card issuers are migrating to this new technology to protect consumers and reduce the costs of fraud. The chip cards are more difficult to replicate, thus reducing a fraudster's ability to use the stolen data.
In the past, for most counterfeit card fraud that occurred at merchant in-store locations, the card issuers held liability. On October 1, 2015, that liability shifted to the merchants (including dealerships) in certain cases. However, according to The Strawhecker Group, less than half of all merchants will be in compliance by June 20161. Those dealerships that have replaced or upgraded their card acceptance and processing systems to use chip-enabled devices and applications to process payment transactions are in the clear.
Those who still use their old magnetic stripe readers are potentially at risk until they follow the new guidelines.
Why should I care?
The EMV standard is intended to protect merchants who comply with the new methods of processing chip cards. The American Bankers Association estimates that bank account fraud cost the banking industry $1.74 trillion in 2012.2 More specifically, annual costs of card fraud in the U.S. alone are estimated at $8.6 billion per year. Experts believe that figure will rise to $10 billion or higher in the very near future.3
The liability shift requirement applies to all non-compliant businesses that process chip cards using the traditional swipe method. Payments.com reports that 200 million chip cards are in circulation, out of the roughly 1.2 billion total payment cards being used in the U.S., with the Smart Card Alliance estimating that 600 million chip cards will be issued through the end of 2015.4 Banks issued chip cards to their most active cardholders allowing the majority of transactions to be completed in a chip-compliant manner. In fact, EMV-compliant businesses already process 40% to 62% of transactions using chip cards.5
Like it or not, the threat is real.
So what? Many other businesses aren't ready.
Not true. Large retailers account for the majority of the transaction volume in the U.S. Over the last two years, those retailers6 have secured their infrastructure and started accepting chip cards, which reduces the likelihood of fraud for the majority of U.S. card-present transactions.
Dealerships need to be on top of this. They need to make sure they are able to, as well as begin accepting chip cards to provide additional security for customers and reduce their own chances of liability. We may also see consumers shifting to brands where they feel more secure during checkout to avoid the perceived risk of identity fraud. Dealerships work hard to create the best possible customer service experience for shoppers, with the goal of creating customers for life. You don't want to put that relationship in jeopardy due to a single credit card transaction.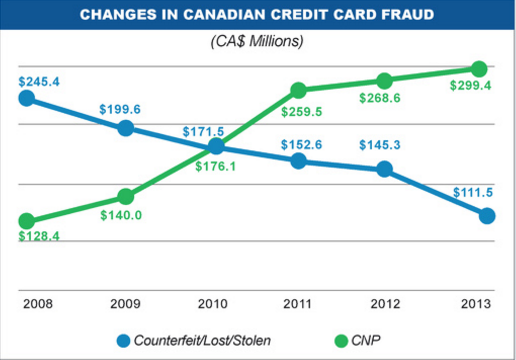 How will my business be impacted?
Several incorrect perceptions abound in the marketplace, such as:
Counterfeit cards are not/rarely used in my business
Chargebacks are a small percentage of my business – the risk is low
Businesses were never responsible for losses related to counterfeit, lost or stolen cards, as the liability was borne by the card issuer to the tune of $8.6 billion, as noted above. Stolen data from breaches at consumer retail chains is easily copied onto the magnetic stripe of plastic cards. Fraudsters using counterfeit cards easily make purchases where merchant systems have no ability to verify the validity of the information when the card is swiped.
Some dealerships think that there are other ways to identify the cardholder and reduce risk. For example, some request a photo ID. While it may provide a feeling of comfort – it provides no real protection. Fake identification has been around for years. Relative to the card, other proof of identity fails to validate the consumer whose electronic data is actually embedded in the magnetic stripe. The card may match the ID but the underlying data may not match the cardholder's true account. No other forms of identification or proof of purchase protect you from the shift in liability other than reading the chip on the card.
Since credit cards are widely used in your dealership's Service and Parts departments, you have high-risk areas worthy of extra concern. These are prime targets for "friendly fraud," where the consumer disputes the transaction because they "don't recall" making a purchase. Failure to read the chip allows the bank to question the validity of the card's data and proceed to charge back the transaction. Because the processing of the chip card is out of compliance, due to failure to read the chip, there is no way to dispute the claim and reverse the chargeback. No other process protects your dealership, other than reading the chip.
With the new standards in place, dealerships that do not adopt the new system will see an increase in chargebacks for reasons that were previously avoided. You must follow a strict set of compliance rules when processing transactions in order to maintain top performance from your payments systems. Missteps result in chargebacks. Consider that chargeback liability for domestic cards is six months (13 months for international cards) from the transaction date. Unsecured dealerships can amass significant trailing chargeback exposure. It only takes a few chargeback transactions in your dealership for you to start feeling it, not only in revenue loss, but also in time dedicated to figuring out what happened.
Disputing a non-EMV card chargeback, also known as arbitration, is a lengthy process that costs $400 ($150 filing and $250 review fee) to complete. At the sole discretion of the card brand (Visa®, MasterCard®, American Express®, Discover®), the validity of the claim and the responsible party are determined. Arbitration cases are rare, however, due to the expense and unlikely positive outcome.
However, there is no dispute process for "failure to read the chip" chargebacks. All liability shifts to you, the merchant.
Is there anything that dealerships should be on the lookout for?
Unfortunately, there is a lot of misinformation being shared about EMV.
Some financial services companies have attempted to provide a sense of security by offering a "guarantee" to dealerships. This masks the fact that they cannot actually protect your business from chargeback risk. You may be told that you have little to worry about and your payments will continue to go as smoothly as possible, but this is usually untrue. The only way to decrease risk is to comply with the new EMV standard.
Equally important to note is the process of filing a claim against the guarantee. Confirming that a claim is valid is easy because all swiped face-to-face chip card transactions are valid reasons for a chargeback. Those chargebacks appear on the monthly merchant statement from the bank. However, when the guarantee says that chargebacks must be disputed, the process cannot be completed, since no disputes are accepted when a chip card is swiped. All chargebacks are final.
There is an easy way to prove the validity of this information. Try it yourself. Complete a transaction at your dealership by swiping your chip card. Dispute the transaction with your bank. Unlike the process with your old card – where the bank submits a retrieval request for a signed receipt – a chargeback immediately appears. Attempt to submit proof of purchase and the cardholder's identity in order to overturn the chargeback and watch the inevitable results.
What should I do today?
The best approach to protect your dealership is to learn what you have to do to follow the new requirements. Take action to become EMV compliant. Plain and simple, the sooner that you obtain the necessary hardware and train your employees on acceptance of new chip cards, the less risk you have of being liable for chargebacks. Check with your current payments solution provider to make sure they are fully prepared to help you avoid these risks and protect your business interests.
EMV-certified solutions allow you to process transactions safely and within the new guidelines. Consumer validation solutions protect you from shifting risks as thieves migrate to new ways of conducting fraud. Having an enterprise solution that delivers a pleasant shopping experience for your customers while protecting your business from liability and revenue loss is a must today.
---
Footnotes
1. http://files.ctctcdn.com/347071db201/08274512-6cce-4608-bec6-6e696cb57cb9.pdf
2. http://inhomelandsecurity.com/the-smart-credit-card-is-chipping-away-at-fraud
3. http://www.paymentsleader.com/will-retailers-be-ready-for-emv-by-oct-2015
4. http://www.pymnts.com/news/2015/the-latest-emv-card-tally
5. According to independent research performed by CenPOS.
6. http://www.rexcuadvice.com/blog/walmart-and-target-moving-emv-cards-and-systems