Warren, MI – September 30, 2016 – Prestige Cadillac in southeast Michigan and Detroit area, unveiled its brand new sales and service facility at a grand re-opening ribbon cutting event on Wednesday, October 12, 2016 at 11AM. The new location at 29900 Van Dyke Avenue, is across from the General Motors Warren Tech Center main engineering facility and near the former Campbell-Ewald building central hub. The first all new design build under Cadillac's 'Project Pinnacle' new facility image program in the United States, coincides with General Motor's $1B investment expansion of the 'National Historic' Tech Center Campus designed by Finnish-American architect Eero Saarinen.
Invited guests include Mayor of Warren, James Fouts and several executives from General Motors and City of Warren Officials.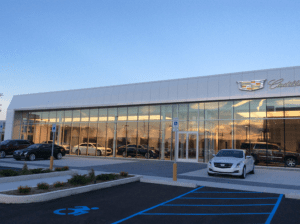 Our celebrations were enriched by members of the community and media professionals. The grand opening was on Wednesday, October 12, 2016 from 11AM to 3PM. The ceremonial ribbon cutting took place at 11:30AM. Our grand opening event featured exclusive access to test drive the newest line-up of luxury Cadillac vehicles and facility tours.
Prestige Tech Center Cadillac brings over $9M real-estate in economic development to southeast Michigan and the Warren downtown district area. The facility features state-of-the-art lighting, a well-appointed customer lounge, inclusive of a coffee bar and designer furnishings. The design aesthetics includes contemporary architecture and premium materials, such as English oak, matte porcelain tile and brushed stainless steel accents.
The guest experience extends beyond the showroom and service lane through the Prestige Automotive Group mobile app where visitors have access to browse our inventory, schedule a service appointment and much more.
Gregory Jackson, president and CEO of Prestige Automotive Group. "Prestige Cadillac strives to provide an exceptional experience to everyone who walks through the door. We are incredibly proud to be a member of the local Warren community."
About Prestige Automotive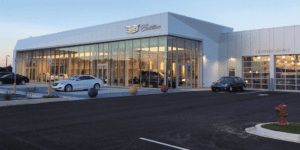 Prestige Automotive Group was founded in 1993 and has flourished into an award-winning and successful automotive group of dealerships, due in large part to their strong work ethic, their passion for cars and their firm commitment to providing their customers with exceptional service experiences. The Prestige Automotive Group, a division of Jackson Automotive management, is based in St. Clair Shores, MI. Jackson Automotive management dealerships consist of: Prestige Mercedes-Benz of St. Clair Shores, Prestige Warren Toyota, Prestige Courtesy Ford of Okemos, and the new Prestige Tech Center Cadillac serving Wayne, Macomb, and Oakland County with a wide variety of new and used cars and trucks, service, parts and a full-service collision and body center.
To schedule your Ribbon Cutting interview, please contact the Corporate Office at 586-773-1550 or e-mail your request to info@jamasset.com. Visit PrestigeCadillac.com and use us for all of your car financing, purchasing, leasing and body shop needs.
###
Business Bio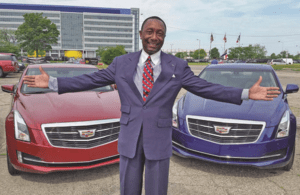 Gregory Jackson is Chairman, President and Chief Executive Officer of Jackson Automotive Management. Jackson Automotive Management consists of Prestige Automotives four auto dealerships in Michigan: Mercedes-Benz of St. Clair Shores, Prestige Warren Toyota, Courtesy Ford of Lansing, and Prestige Tech Center Cadillac of Warren, across from GM Tech Center. Mercedes-Benz of St. Clair Shores recently received recognition for its tenth year anniversary from Mercedes-Benz Financial Services.
In addition to automotive interests; Jackson owns Jackson Asset Management (JAM) consisting of Wink Entertainment (Copper Ridge Golf Course and Banquet Center in Davison, Michigan) The Mies van der Rohe-designed Lafayette Towers, a recently restored apartment complex, transformed one of Detroit's architectural jewels back to its original grandeur. JAM also owns commercial office buildings in Midtown Detroit.
Jackson is a graduate of Morris Brown College and The Atlanta University Graduate School of Business (MBA in Finance), Jackson is a Certified Public Accountant, and serves on a number of local and national boards and organizations. Some of these memberships include the National Automobile Dealers Association (NADA), the Detroit Automobile Dealers Association (DADA) and Kappa Alpha Psi Fraternity Incorporated. Mr. Jackson is a lifetime member of the National Association for the Advancement of Colored People (NAACP); and is a consistent supporter of The College Fund (UNCF). Jackson is also a member of the Music Hall (Detroit) Board of Directors and a Henry Ford Health System Foundation Trustee.
Gregory Jackson has gained national prominence for his success launching, expanding and managing a network of well-branded, highly visible businesses in the ultra-competitive automotive industry. When Jackson's Prestige Automotive Group grossed $1.67 billion in sales in 2005, he made history by becoming the first African-American to lead an auto dealership group with more than $1 billion in annual sales. His firm then became one of only three Black- owned companies to have reached yearly sales of $1 billion or more.
Jackson's Prestige Automotive was named BE 100s Auto Dealer of the Year by Black Enterprise magazine. Prestige Automotive Group has been featured several years by Crain's Detroit Business in its listing of the Largest Privately held businesses (#49), Largest Auto Dealers (#5) and Largest African American owned business (#3).
Gregory Jackson makes his home in Detroit, Michigan. During his leisure time, he enjoys playing golf, watching sports and spending time with his family. Jackson is a member of Fellowship Chapel Church in Detroit.
The married father of two, Jackson appreciates the acclaim his organization has received as a diverse business, but what really matters, he believes in attracting and retaining loyal customers from every part of a community, and executing a business plan that leads to outstanding financial performance.
Jackson's advice to future business owners; "save your money, establish good credit, do your research and most importantly learn every aspect of the business." For further information, visit www.jamasset.com.
Digital Dealer exists to help dealers and their managers sell more vehicles more profitably by creating the best live events and media in the industry. Write for Dealer Magazine & digitaldealer.com and share your insight with automotive dealerships across the U.S.!