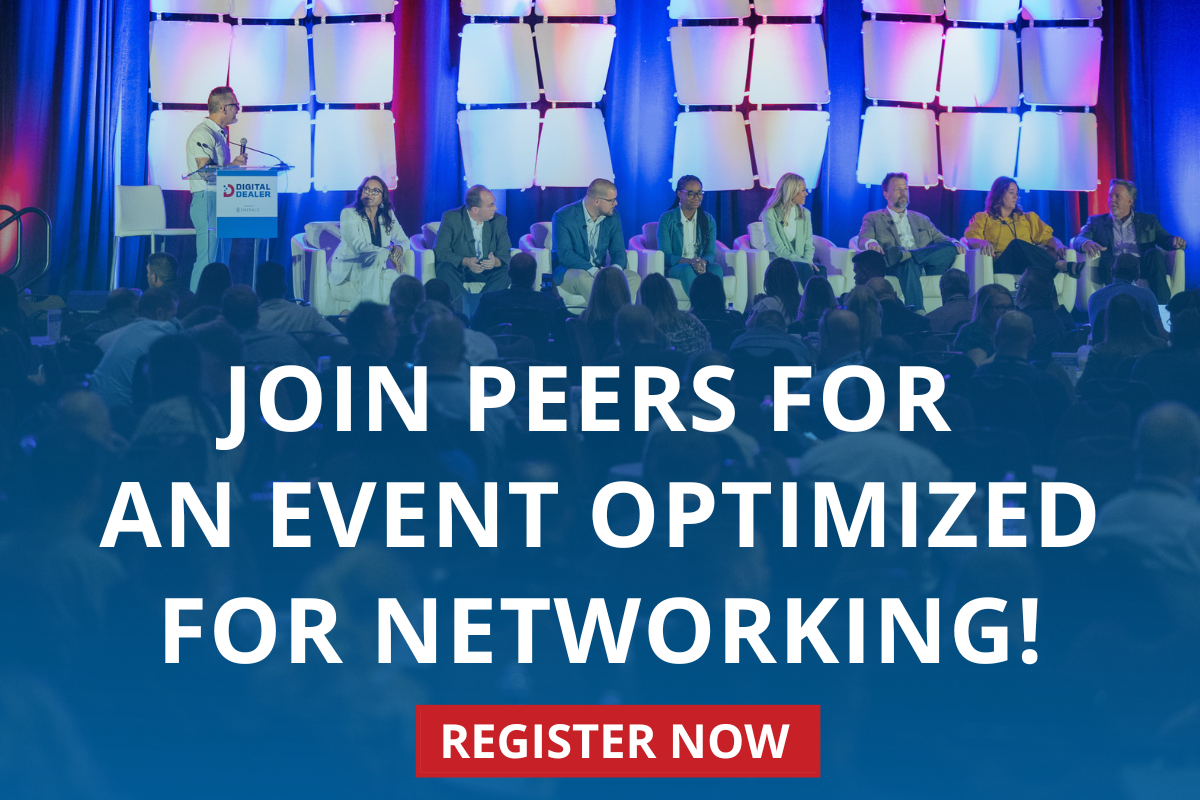 Attend Digital Dealer Tampa 2023 for actionable sessions, peer-to-peer learning, expo hall immersive experiences, and exploration into innovative technologies/solutions. Join us this May 1-3 at the Tampa Convention Center in Tampa, Florida.
NETWORK: MEET & COLLABORATE WITH INDUSTRY PEERS
Digital Dealer Tampa is an event optimized for networking and where honest conversations can lead to real solutions.
Attend roundtable sessions where networking happens organically while discussing strategy
Meet industry peers at the Digital Dealer Kickoff Party for a fun night of drinks, dancing, and live entertainment
Make new contacts at the cocktail receptions or networking breakfasts/lunches
Connect with event participants on the new event app and matchmaking platform
Collaborate with industry experts during interactive and hands-on sessions
LEARN: ATTEND INTERACTIVE & ACTIONABLE SESSIONS
Sessions are designed to be more personal and focused on actionable solutions you can take back to your dealership and implement immediately.
LEARNING TRACKS
Dealer Ops & Leadership. Learn how to optimize your human capital.
Marketing & Advertising. The latest digital and traditional marketing strategies.
Sales Strategy & Variable Ops. E-commerce, BDC, and CRM strategies for both new and pre-owned vehicles.
DISCOVER: EXPLORE TECHNOLOGY-FOCUSED PROVIDERS
Explore an expo hall full of technology-focused exhibitors and meet with these providers one-on-one.
Top exhibitors confirmed for Digital Dealer Tampa:
Interactive and in-depth sessions
Digital Dealer Tampa is intentionally designed to be more personal and focused on interactive solutions. Take deep dives into the topics you need to accelerate your marketing strategy and attend peer-to-peer sessions where you'll network organically and learn from industry experts.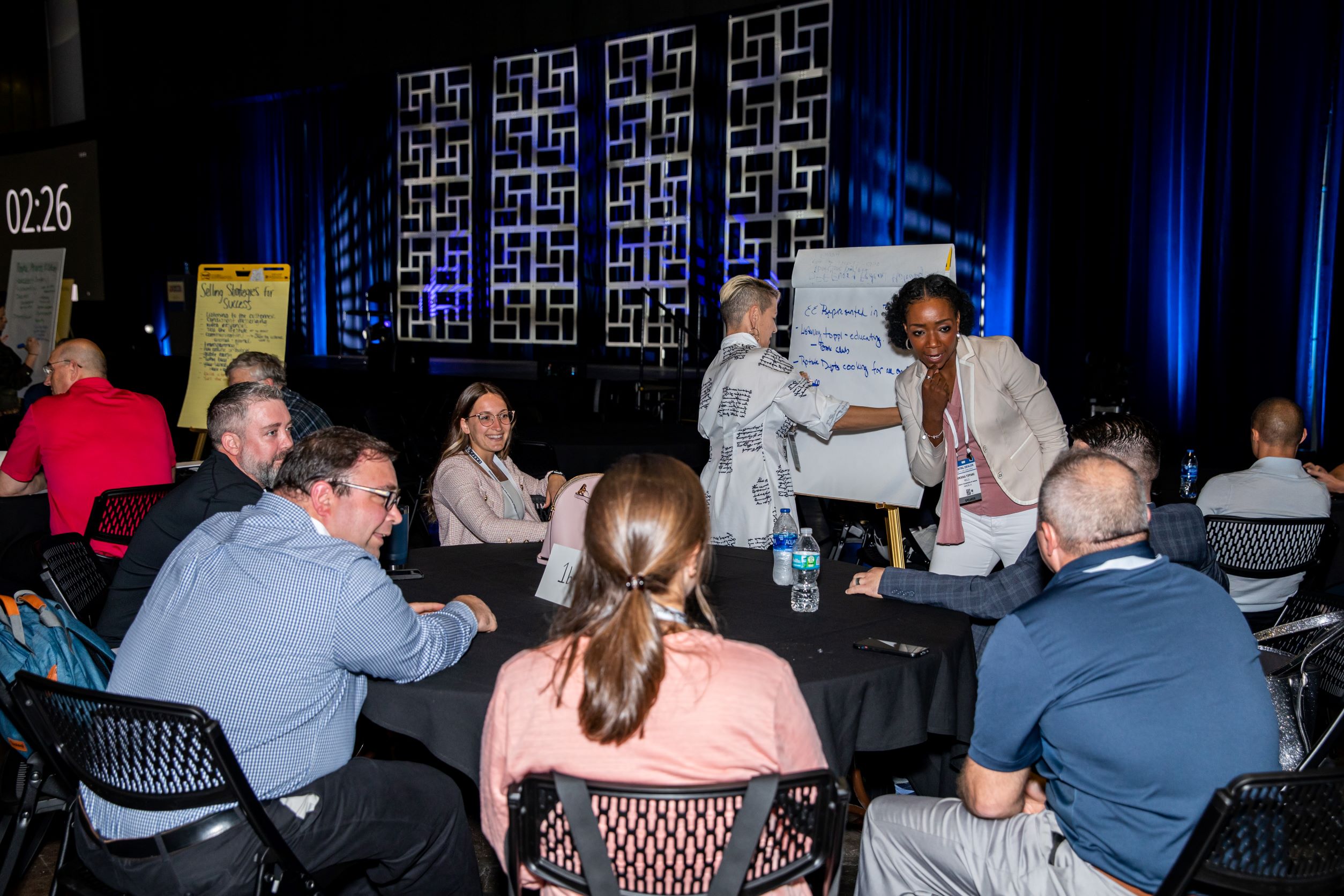 May 1: Pre-Event Kickoff
Early Badge Pickup/Registration: 12 – 6 pm
Digital Dealer Kickoff Party @ AmSo: 6 – 10 pm
May 2: Conference & Expo
Expo Hall open: 8 am – 6:10 pm
A full day of actionable sessions, kicking off at 8:40 am
May 3: Conference & Expo
Expo Hall open: 8 am – 3 pm
A full day of actionable sessions
Digital Dealer Tampa is where our industry meets on a closer scale compared to other conferences. This allows us to attend sessions that are more educational and interact with our colleagues at a more personal level. 
Dealership/OEM registration Pricing
ADVANCED Rate: Conference & Expo Pass | $950 ($100 Savings!)
Dealership/OEM Conference & Expo Pass Includes:
All Sessions
Expo & Keynote Hall
Digital Dealer Kickoff Party on May 1
Networking Breakfasts, Lunches, and Receptions
Event App (Networking Tools, Schedule Builder + Post-Show Access to Recorded Sessions)
Advanced rate available until April 30, 2023
ON-SITE Rate: Conference & Expo Pass | $1,050
Dealership/OEM Conference & Expo Pass Includes:
All Sessions
Expo & Keynote Hall
Digital Dealer Kickoff Party on May 1
Networking Breakfasts, Lunches, and Receptions
Event App (Networking Tools, Schedule Builder + Post-Show Access to Recorded Sessions)
On-site rate May 1-3, 2023
allied registration Pricing
Advanced Rate: Conference & Expo Pass | $1,950 ($510 Savings!)
Allied Conference & Expo Pass Includes:
Sessions (Excludes Dealership/OEM-Only Sessions)
Expo & Keynote Hall
Digital Dealer Kickoff Party on May 1
Networking Breakfasts, Lunches, and Receptions
Event App (Schedule Builder + Post-Show Access to Recorded Sessions)
Advanced rate available until April 30, 2023
On-site Rate: Conference & Expo Pass | $2,460
Allied Conference & Expo Pass Includes:
Sessions (Excludes Dealership/OEM-Only Sessions)
Expo & Keynote Hall
Digital Dealer Kickoff Party on May 1
Networking Breakfasts, Lunches, and Receptions
Event App (Schedule Builder + Post-Show Access to Recorded Sessions)