| | |
| --- | --- |
| 5/10/2022 1:20 – 2:10 PM | Room: 125 |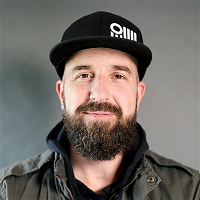 Founder
ASOTU
Paul J. Daly has a unique ability to understand brand dynamics and a distinct desire to see a revolution in retail automotive. The thesis of his Amazon Bestseller "The Automotive Manifesto: How Brand Connection Can Save Retail Automotive" has been praised by industry leaders like Dale Pollak and used in NADA Dealer training. Paul's direct work with global brand marketing innovators like Gary Vaynerchuk and Simon Sinek position him to waken a new breed of marketers and executives in the automotive space.
Paul is the Co-Founder of Contagious Auto,CEO of Congruent. During the outset of the COVID 19 pandemic, Paul founded The Automotive State of the Union live-stream and in-person to serve the industry by bringing together Innovative Dealers, OEMs, and Industry Partners to educate and empower the Retail Automotive Industry.
Most recently, Paul was selected to be the recipient of the 2021 National Association of Minority Dealers (NAMAD) Diversity Advocacy Award for his work assisting ethnic minority dealers to succeed in the Automotive Industry.