10/13/2022 11:30 AM – 12:20 PM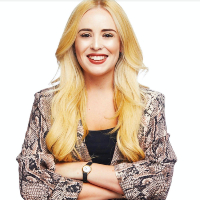 Marketing Director
Friendemic
Hannah Lifson is an Event Expert and Technology Marketing veteran who has developed demand-generation strategies for companies, from start-ups to some of automotive's most well-known leaders. Hannah helps dealers leverage technology to reach and build trust with in-market shoppers and customers. Hannah has been responsible for hundreds of private and/or public events. She has also curated hundreds of pieces of original content via case studies, testimonials, email campaigns, and all forms of social media.
Hannah has also launched, managed, and assisted in the rebanding of corporate social media presence for multiple companies. She has conducted over 50 industry interviews which have appeared on Digital Dealer.com, CBT News, and DrivingSales.com.
Hannah holds a BA in Communications with a focus in Mass Media and a Minor in Deaf Studies and Sign Language from the California State University of Sacramento.