10/11/2022 9:00 – 9:50 AM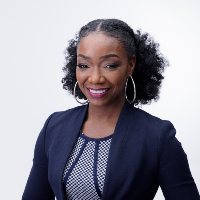 Senior Sales Manager, Walser Automotive
Co-Founder, WOCAN
With no previous auto experience Erikka Wells went from changing diapers at a daycare, to changing oil at a repair shop. A chance repair on her alternator would be the spark that would ignite her automotive fire. Her Automotive career began in 2005, working as a service writer for a small NAPA Auto Care center USave Auto repair where she would go on to obtain her independent dealers license.
In 2007 she started selling cars at a Buy Here Pay Here. In 2011, she began working for Audi Marietta, developing the first pilot BDC for Audi of America. From New Car Manager to Finance Manager, her tenacity and drive on her quest to GM, became her inspiration to start an organization to develop and empower more minority women in auto related careers.
Over the course of her journey, she was recognized as one of the Peak Performance Achievers for Audi of America (2016), awarded the Flo Kennedy Award by Real Women Atlanta Magazine (2019), and Nominated for the Rising in Community Excellence RICE Award for her contributions to women in the automotive field. She has also been named one of Automotive News' 40 Under 40 for 2021.
Erikka became passionate about changing the way women are viewed and treated in the automotive space. She has a vision and passion for helping women and minorities consider non-traditional careers in automotive to attain a higher level of success both personally and professionally. She is a co-founder of Women of Color Automotive Network, – a nonprofit established in 2020 dedicated to providing resources and community needed to help minority women succeed in Automotive.